Bitcoin ATM & Online: CoinFlip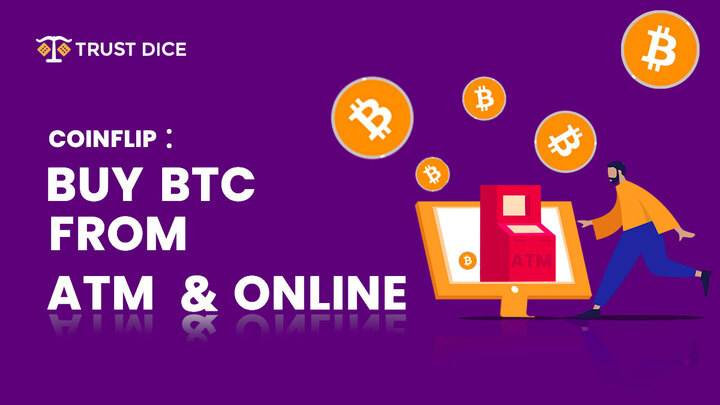 What is CoinFlip
CoinFlip is one of the few Bitcoin ATM providers that facilitates buying and selling of Bitcoins via cash, card, and bank transfer. They offer multiple ways of buying and selling Bitcoins since 2015 at minimal charges and an easy-to-understand process.
What kind of ways Coinflip offer to buy Bitcoin?
There are mainly 3 services offered by CoinFlip:
Bitcoin ATMs

Buy Bitcoins online through debit and credit cards
GiftCard marketplace where you can exchange Bitcoin and Bitcoin Cash for gift cards of known brands.
What are the fees charged by CoinFlip?
There are various fees associated with each service as follows:
ATM Charge: Their ATM operates at 6.99% above the Tradeblock XBX price. It may slightly vary based on your location though.
Buying Bitcoins Online: To buy online you have to pay a CoinFlip fee of 2.99% and a Simplex fee of 4% (min $5) which equates to total fees of 6.99%. If you are buying smaller amounts, it will cost you even higher because the minimum fee from Simplex is $5.
For example, if the current price according to Tradeblock is $55,250. Buying 0.001 bitcoins will cost you approximately $63.57 but if you buy 0.1 bitcoins, it will cost you $6082. It means buying smaller amounts will be costlier as compared to buying higher amounts of bitcoins.
Coinflip FAQ
1) How to use coinflip atm?
It is a very simple and quick process; you can watch the video and understand how exactly it works.
Watch their video here: How To Use CoinFlip ATM
2) Does CoinFlip ATM require ID?
Yes, they require verification and what kind of verification is required depends on the amount you are trying to purchase. If you are buying below $900, all they require is your name and SMS verification. If you are transacting up to $3000 a day, then you need to provide ID verification. Amount up to $8000 a day, requires you to pass an enhanced identity verification process. The limits are reset at midnight daily.
3) Is CoinFlip ATM anonymous?
Since they require you to provide your identity for transactions, it cannot be classified as an anonymous service but they are fast and pretty easy to use.
4) Does Brazil have CoinFlip Bitcoin ATM?
Unfortunately, there isn't any CoinFlip ATM in Brazil but there is BitAccess's Bitcoin ATM available in Brazil that serves the same purpose.
5) Is CoinFlip legit?
Yes, CoinFlip is a legit service provider, working at low fees and ensuring a hassle-free process for its customers.
Related Articles:
1. Bitcoin ATM — Coin Cloud Review