What is RTP and can it help you win big?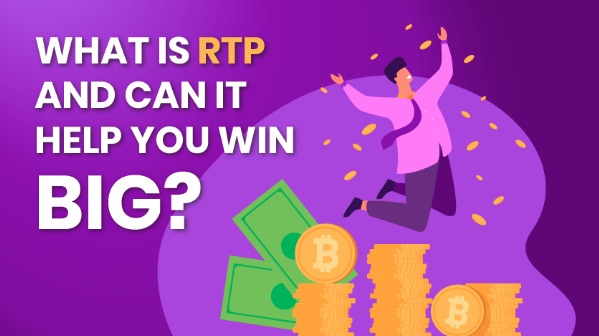 No matter how generous a casino might seem, it's still a profit-oriented business. This is why RTP exists in the first place - to keep a long-term advantage, casinos will keep a percentage of the player's bets (on average). This is called a house edge (HE) and it's closely related to the return-to-player (RTP for short) value, as they stand for two sides of the same idea.
What is RTP?
RTP is a term used to express the amount of money you've gambled in a casino game, that will on average be returned to you in the form of winnings.
The return-to-player value is shown as a percentage with a range between 70%-99%, where the higher percentage means a higher payout. For example, in a game with 95% RTP, 5% on average will remain with the casino in the form of house edge (it also represents how much you're going to lose statistically) - you can easily calculate HE by subtracting the RTP value from 100.
Will I get the same results from every game?
Like mentioned, both of these values are statistical averages. They don't ensure the game's outcome will match them every time. If you were to continue betting countless times, the average of your results would start to come increasingly closer to the real return-to-player value. Gambling with a certain amount of money could still result in winning it all or losing it all.
How to benefit from RTP?
The key action you can take to use return-to-player to your advantage is to find games with the highest RTP values (or lowest HE) and play them - this can ensure you keep your losses at a minimum. You can typically find these values in the game's info section (most often represented by an 'i' icon). There are even games with a naturally high return-to-player: blackjack, craps, baccarat and roulette. However, it's worth mentioning that high-RTP games often don't offer very high jackpots.
Other methods of benefiting from RTP include:
Playing games based on their volatility: whether they rarely, but in substantial amounts (high volatility), or pay out often, but in small amounts (low volatility); Alternatively, you can also choose medium volatile games.





Using Betting strategies - methods, used to increase a player's chances of winning (e.g. Basic Strategy in blackjack).





Choosing casino bonuses that can be converted to cash easily.





Bet maximizing: many experts claim minimizing your bets actually prolongs your losses, while maximizing bets ensures that any of your winnings will result in a decent amount.





Budgeting and targets: you either hit your targets (which means you've beat the house edge) or minimize your losses for that day when reaching a budget. In comparison, gambling aimlessly, until you're out of money or bored, can result in much greater losses.





Playing different games can increase your odds of winning: firstly, free spins can




vary greatly among games, and if you get caught in an unproductive loop, it's best to move onto another. Some gambling experts have even recommended to schedule playing different games to avoid spiraling into a specific game.
If you want to beat the house advantage and score bigger wins, always look for the RTP value in a game's info section. It'll tell you how much you'll be losing on average, so why not play games where you'll lose as little as possible?
Related topics:
1. Crypto Bonuses: Are They Worth It?
2. Six (6) Useful Tips To Consider When Looking For A Mobile Bitcoin Casino