モノポリーライブ(Monopoly Live)の遊び方と攻略法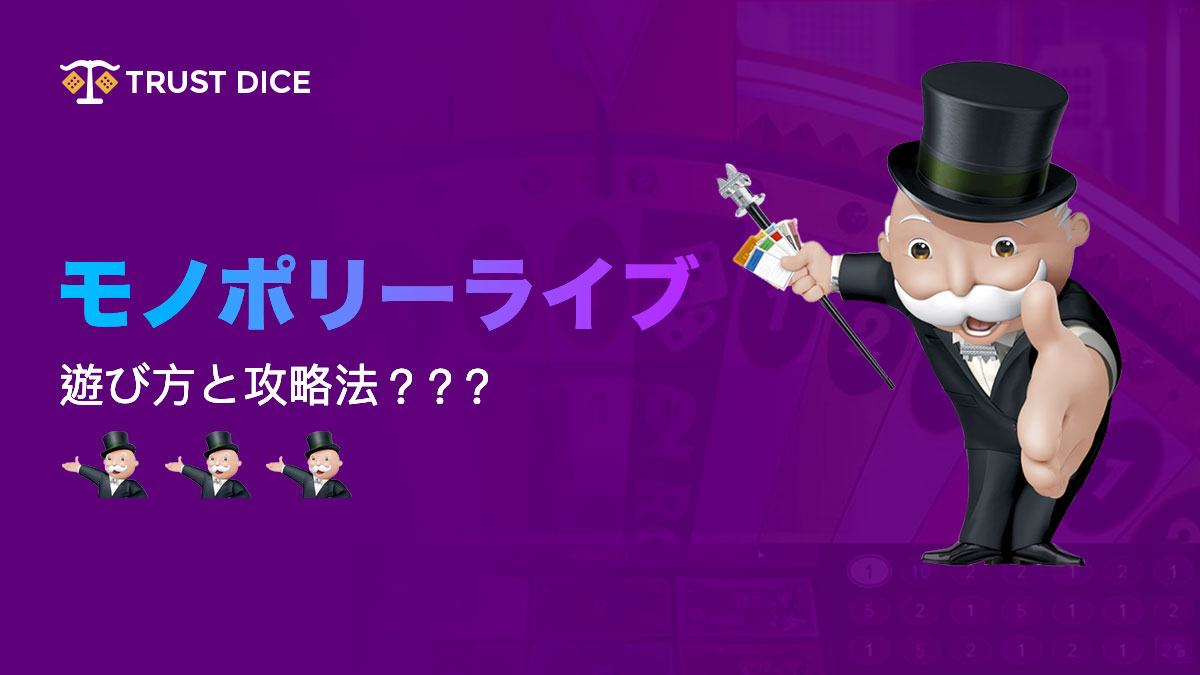 Monopoly is said to be the most popular and played board game in the world. Maybe most people have played with family and friends at least once?
Due to the popularity of Monopoly and the growing interest in live casino games in recent years, the live casino game "Monopoly Live" was born, which combines the two.
In this article, we will introduce the rules and ways of playing Monopoly Live, which has become a hot topic, and strategies that will help you to increase your chances of winning and making a profit.
table of contents:
What is Monopoly Live?
Monopoly Live is a live casino game that was developed in 2019 by Evolution Gaming, the largest player in the live casino game world, in collaboration with Hasbro. Shortly after its birth, it attracted the attention of casino players around the world and quickly surpassed its predecessor, the blockbuster game Live Dream Catcher.
Monopoly Live is broadcast live by real live casino dealers. Therefore, you can enjoy communicating with real casino dealers and other players at the same time while staying at home comfortably.
The game is divided into two levels, "Money Wheel Game" and "3D Bonus Round", providing a lot of fun and thrills to the players. And in bonus rounds, you're offered the chance to win big prizes.
Monopoly Live Rules / How to Play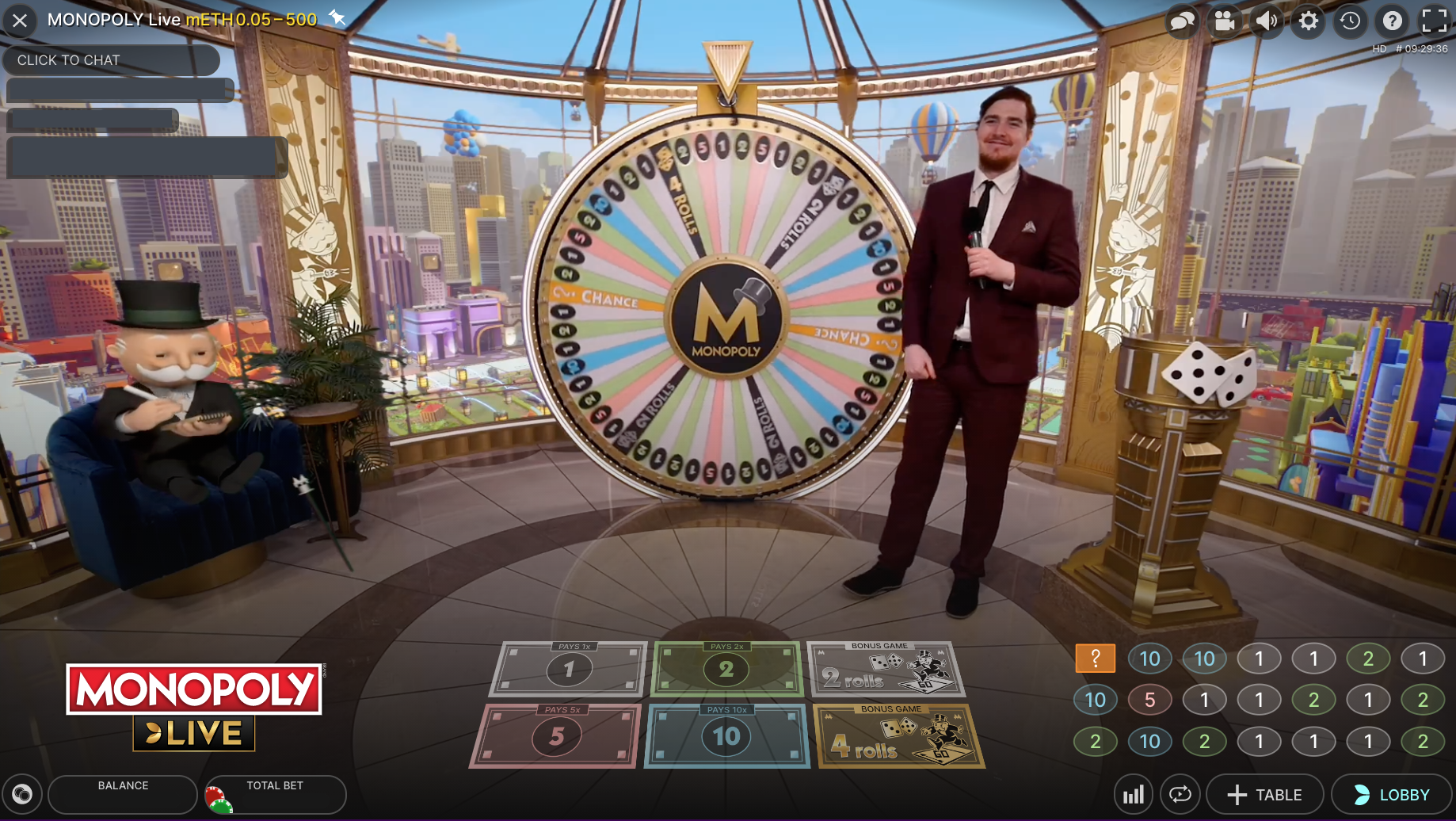 How to play Monopoly Live is very simple and easy. Just anticipate where the big spinning wheel will stop and bet. The wheel is divided into 54 equal segments, each with a different payout value. There are 1, 2, 5, 10, 2Rolls, and 4Rolls betting options, and if the wheel stops at a number (eg 5), the player betting on that number will receive a payout multiplied by that number (eg: 5). 1 = 1 times, 10 = 10 times, etc.). The time required for one spin of Monopoly Live is about 30 seconds, so the game progresses at a very good tempo.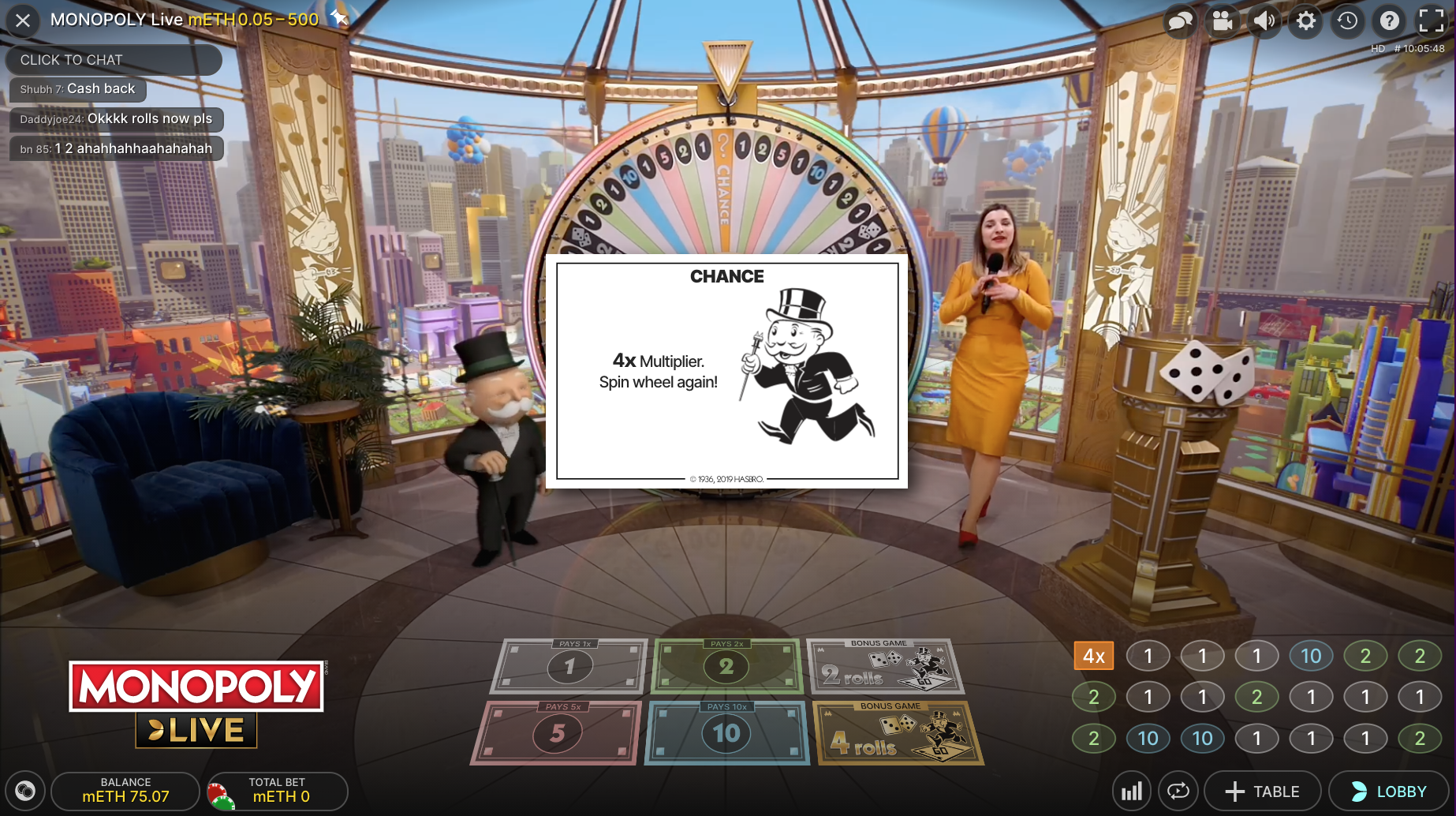 In addition, there are two segments on the wheel called "chance". This increases the payout value of the other options. For example, suppose you bet 1,000 yen on the number "5" and the wheel stops at the "chance" position. And if you get a "chance" card with a 4x multiplier, it means that the payout value in all numbers will be 4x. If a spin is made again after a chance and the wheel stops at "5" at that spin, you will get 20 times the prize instead of 5 times (5x8).
Monopoly Live Bonus Round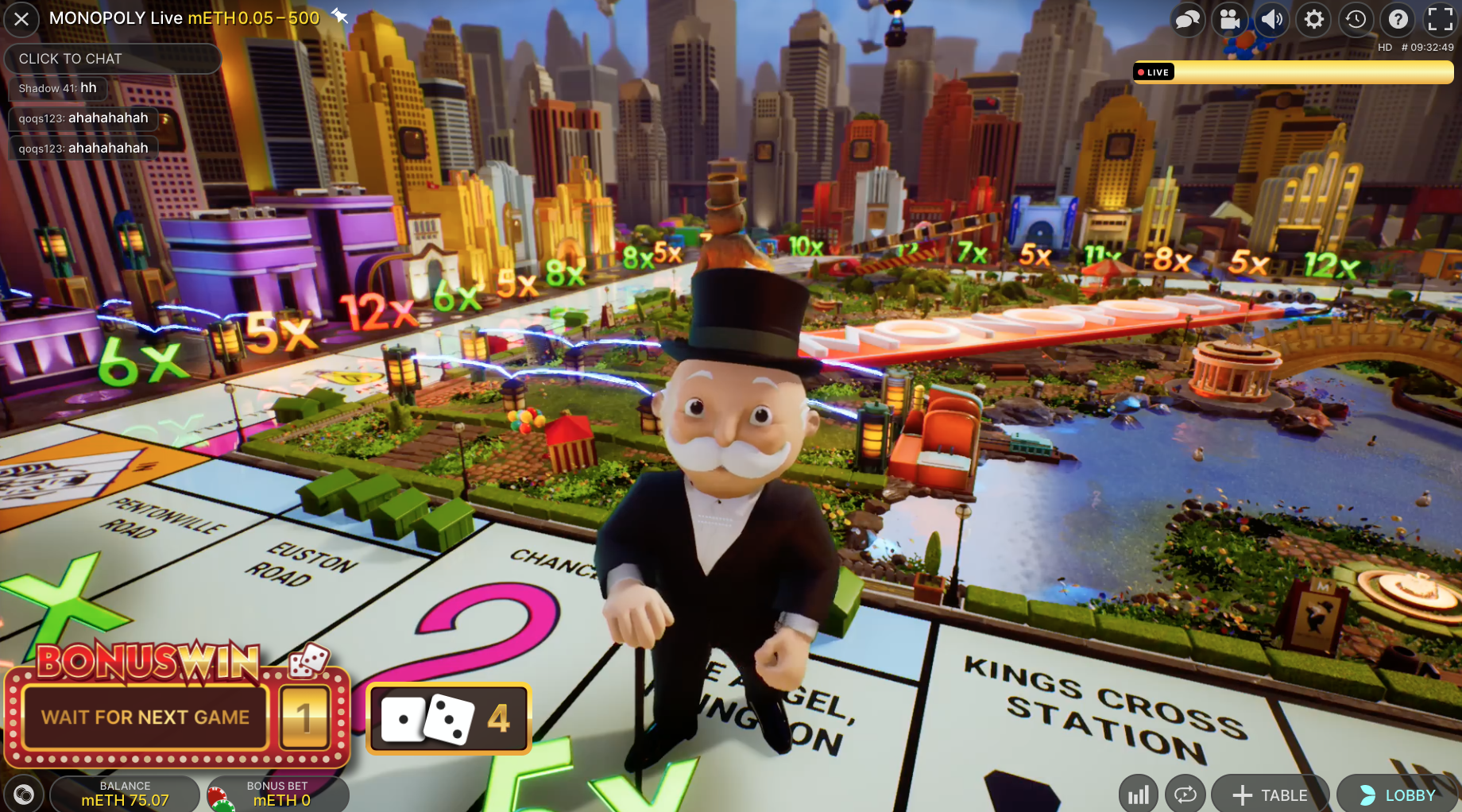 When the wheel stops at "2Rolls" or "4Rolls", it will switch to the 3D bonus game. In this bonus game, Mr. Monopoly will travel through the 3D Monopoly world. There are various fields in 3D Monopoly World (real estate, public facilities, parking lots, railroads, taxes, prisons, opportunities / community chests, GO). Bonus At the start of the game, the payout values ​​for all fields are randomly multiplied and can be up to 1000 times or more.
The 2 Rolls bonus rolls 2 dice twice, and the 4 Rolls rolls 2 dice 4 times.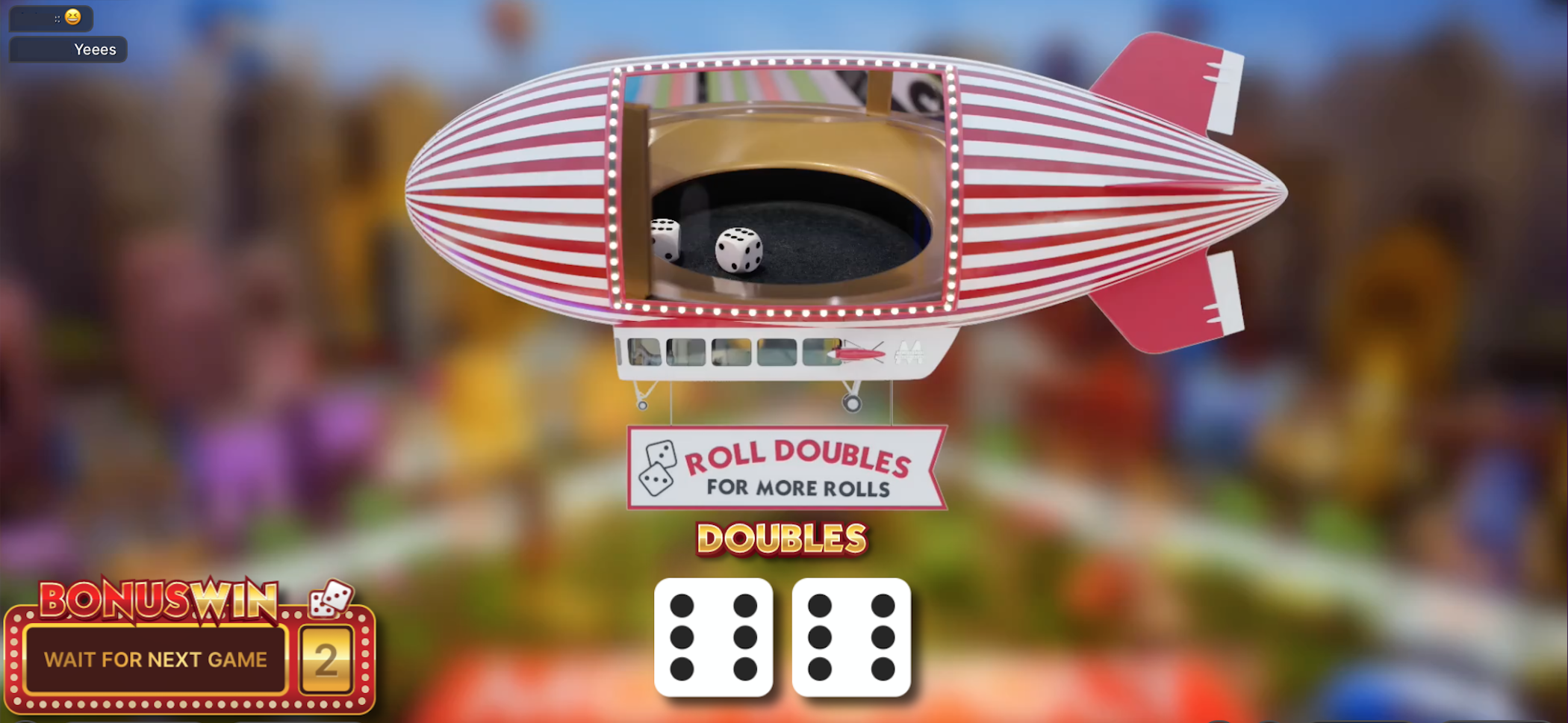 The 3D bonus game is almost the same as the well-known board game Monopoly. The number of steps a player takes is determined by the sum of the two dice rolls, and if a double is rolled (eg 3 and 3), an additional roll can be obtained. When all rolls are complete, the game will return to the normal Money Wheel.
Monopoly Live Statistics
The RTP (Player Return Rate) for Monopoly Live is 96.23%, but it can vary from 91.30% to 96.23% depending on the bet you select. The maximum payout for a single player is 500,000 €, but because many people are playing online at the same time, there are millions of dollars paid out per round.
Please refer to the table below for the PTR and ease of winning for each betting option:
| | | | |
| --- | --- | --- | --- |
| Choices: | number: | RTP: | Payout: |
| 1 | twenty two | 92.88% | 1x |
| 2 | 15 | 96.23% | 2 times |
| Five | 7 | 91.30% | 5 times |
| Ten | Four | 96.02% | 10 times |
| Chance | 2 | ―――― | random |
| 2 Rolls | 3 | 93.90% | Up to € 500,000 |
| 4 Rolls | 1 | 93.67% | Up to € 500,000 |
As you can see in this table, the most likely hit is "1" (40% probability). On the other hand, the probability of entering a bonus round is 7.4%. Keep in mind that it is very important to logically determine your chances of winning before playing.
Monopoly Live Strategy / Strategy
This is true of any casino game, not just Monopoly Live, but if you want to reduce risk and make a profit, you need to develop a strategy. By always betting on all possible outcomes while keeping your stakes in moderation, you can profit on every spin, regardless of amount. One thing to keep in mind is to bet on low volatility segments like 2Rolls and 4Rolls.
By doing so, you can be sure that you will be able to take advantage of multipliers and cash rewards when you have a "chance". You can also participate in the most valuable bonus rounds in the game.
Where the Monopoly Live wheel stops is completely random and has a strong luck factor, so it can stop at "1" five times in a row, or even more. Therefore, there are many risks involved in winning a bonus game. The best Monopoly Live strategy is to choose multiple options and place the same bet each round. For example, suppose you bet a total of 2,000 yen in each game round. In that case, the recommended method is to spread the risk, as in the following example:
Bet 1,000 yen on "2"

Bet 400 yen on "10"

Bet 300 yen on "2Rolls"

Bet 300 yen on "4 Rolls"
The above method will increase your chances of winning by eliminating the two options with low RTP.
Also, since the game progresses at a very good tempo in Monopoly Live, set a budget in advance and try to keep it.
Tips and points when playing Monopoly Live
In live casino games, it's wise to have the right strategy to maximize your chances of winning. But to be successful, you need to know not only the strategy, but also the correct knowledge and tips of the game.
Here are some points to keep in mind when playing Monopoly Live.
Let's understand the rules of the game!
Betting properly without knowing what is going on can lead to huge losses. Before you start playing, make sure you understand how to play and the rules. You can also refer to the table introduced earlier.
Keep track of game history
At the bottom right of the Monopoly Live screen, the results of the last 21 spins are always displayed. While always checking this, it is a good idea to bet by referring to the flow of the game so far, such as which result is frequently obtained.
Take a look at the in-game live chat
Monopoly Live has a chat that players can join in real time. Some players will occasionally share tips and tricks, so be sure to check back regularly.
Take a break
If you play for a long time in a row, or if you continue to lose, you will not be able to make a calm judgment. Decide when to play in advance, and if you feel tired, take a break. By refreshing your mood and playing, the flow of the game may change or good luck may come in! ??
Try to play reasonably
Gambling should be enjoyed as entertainment, not for the purpose of making money. Of course, because it's gambling, you can win or lose. Never spend money that you don't want to lose, and always keep your play within a predetermined budget with plenty of money.
summary
Modeled after the world's most popular board game, this live casino game "Monopoly Live" will surely make you addicted to its fun once you play it. If you are interested in live casino, you can play slowly at home at the end of work, or you can play with your family and friends and get excited. Why don't you play this game once?
If you play while referring to the tips and points introduced today, you will surely be captivated by the fun. Unexpected luck may come in and you may be able to win big money.
Related article:
[Thorough explanation] Basic rules of roulette | Casino Queen that everyone knows!
[Thorough explanation] Introducing the rules and strategies of blackjack [Simple and super deep]
Baccarat Complete Guide-Thorough explanation of how to play and game strategy [Must-see for beginners]