Crypto Bonuses: Are They Worth It?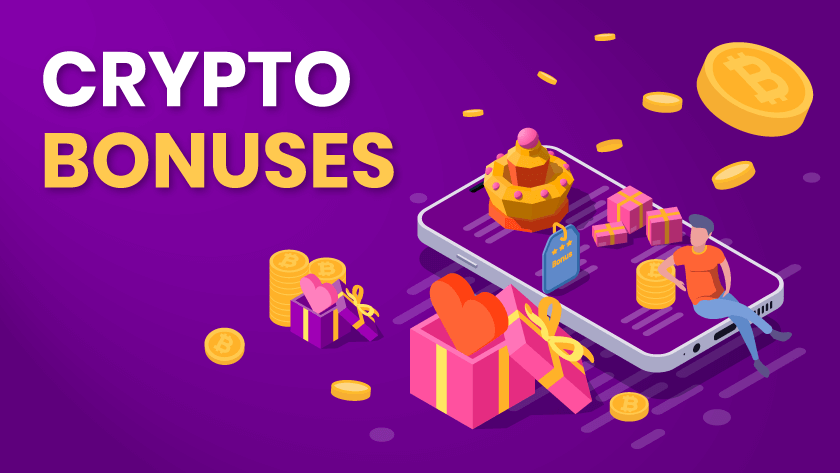 Since gambling with crypto currencies has been gaining popularity at online casinos, many of these casinos are now offering their players not only regular fiat bonuses, but also crypto bonuses. What exactly are they and how do they differ from regular bonuses? Read on to find out!
Firstly, we should explain a little bit about various bonus types and the ways in which they can be different from one another. There is more to it than just whether we are talking about a crypto or fiat bonus. The main three categories are deposit bonus, no deposit bonus, and faucet bonus.
Deposit bonuses are probably the most common ones. The way they function is very simple: you basically receive a bonus after making a minimum deposit (these requirements of course depend on a particular casino). Depending on the bonus percentage that the casino offers, they will give you that percentage on top of your original deposit. If the bonus is 200 % and you deposit $10, you will receive $20 and have a total of $30 to play with. When it comes to crypto deposit bonuses, they are usually available in BTC and much more rare for smaller altcoins (for example a BNB casino bonus is almost impossible to find, although trends are shifting here as well).
In contrast to this, no deposit bonuses are a type of bonus where you are not required to deposit money in order to claim your bonus. As a consequence (and so that the casino can better monitor bonuses), these no deposit bonuses generally come with higher wagering requirements.
At this point you may be asking yourself how important wagering really is. It goes without saying that a good rule of thumb is to always read through the terms and conditions before you start playing at an online casino in order to get a full grasp of all the bonus requirements since they can vary greatly from casino to casino. No bonus will be given to you completely for free because at the end of the day casinos have to make their own business profitable. When it comes to no deposit bonuses, wagering requirements are usually never under fifty times – in contrast deposit bonuses can have much lower wagering requirements, even as low as twenty five times. One other thing to note is that no deposit bonuses often come with a maximum cash-out, meaning that the amount you can withdraw from this type of bonus will be limited.
The final type of bonus to mention is a faucet bonus. This bonus is awarded to you in exchange for completing simple tasks such as playing Bitcoin games, watching advertisements, answering surveys, or solving a few easy puzzles. With this information, you can guess how the faucet site earns its money – through advertising and through your interaction with the website. Faucet bonuses only apply to crypto currencies and the rewards you receive are therefore crypto coins like Bitcoin. But since the tasks that you are required to do are very simple, the rewards tend to be pretty small too (for example, the faucet bonuses for Bitcoin are paid out in Satoshis which are worth one hundred millionth of a Bitcoin). Depending on the faucet, some will only allow you to withdraw your rewards from the on-site wallet to your ewallet after you've earned a certain amount. This varies from website to website, so it's always better to go for one with low withdrawal requirements. The idea behind crypto faucets was initially to spread the word about crypto currencies, but also to enable people to make some passive income in a pretty easy way.
Next, we can compare bonuses purely on the basis of whether they are fiat or crypto. As already mentioned, faucet bonuses are exclusive to cryptocurrencies and therefore do not exist for fiat. However, while many reputable casinos offer very good fiat bonuses, crypto bonuses are usually higher. If an online casino is entirely crypto-oriented (and reputable, of course), they tend to offer especially good crypto bonuses.
So, what would be the best type of bonus? It depends on your preferences and whether you like to take a chance. Crypto faucets are overall a very easy and safe way to earn, but your rewards are quite low. On the other hand, regular deposit bonuses can earn you more money, but in a true gambling fashion more profit tends to come with more risk.
If you want to give the famed faucets a try, you can have a go right here at Trust Dice and claim free crypto every six hours. You can choose between currencies like Bitcoin, Ethereum, EOS, Tether and more!