How to use SticPay - the best eWallet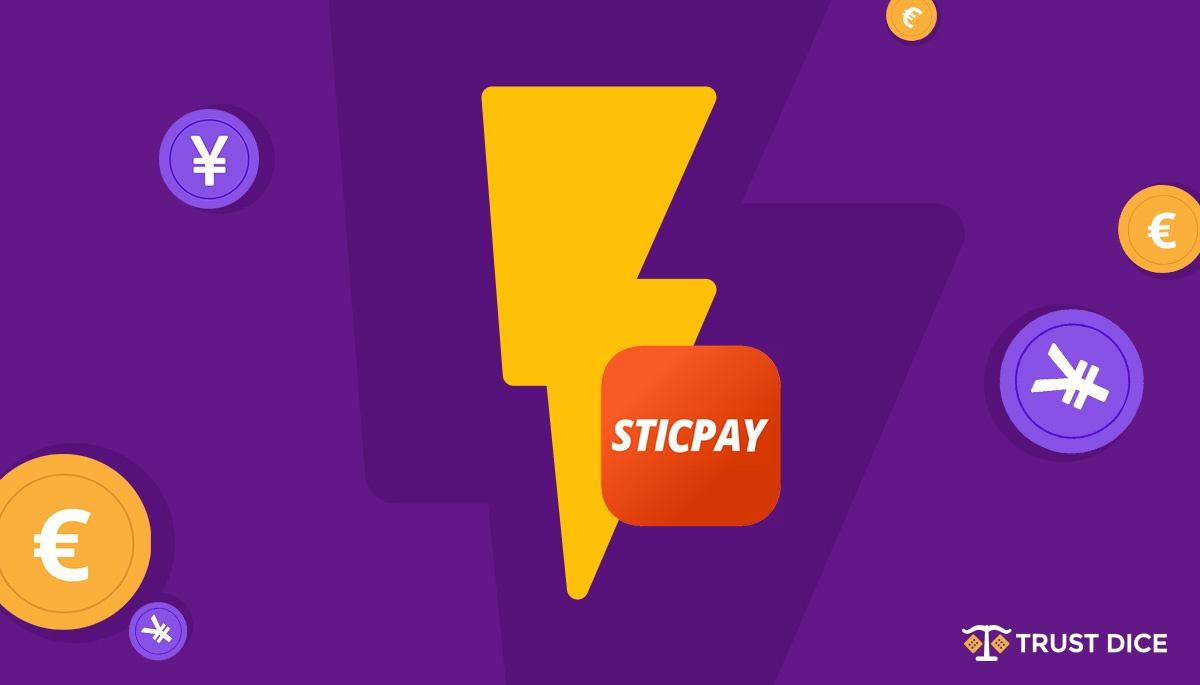 STICPAY is the Best eWallet - And is Fully Supported by TrustDice
If you work online, travel frequently, or love online gaming, you will know how difficult sending and receiving cash internationally can be. This is especially true when you throw cryptos like Bitcoin into the mix of currencies you deal with. Thankfully, the new eWallet service STICPAY can make life a lot easier.
Here, we'll look at what STICPAY is, what the benefits of using STICPAY are, and how to use STICPAY for deposits and withdrawals here on TrustDice.
What is STICPAY?
If you work online or play regularly at popular online casinos like TrustDice, you won't be a stranger to eWallet services. Skrill, Neteller, and Payoneer are just a few popular options. However, all have one major drawback.
At present, most eWallet services cater only to customers in the U.S. or the European Economic Area (EEA). One exception to this rule is Payoneer. However, Payoneer explicitly prohibits the use of its services for online gaming and the buying or selling of cryptocurrency.
Thankfully, rising fintech star STICPAY offers its users a far more versatile eWallet solution.
STICPAY Offers Everything Legacy eWallet Service Don't
What makes STICPAY so exciting is simple. Unlike eWallet services that limit their use to U.S. or EEA customers, STICPAY is available to consumers in over 200 different countries. As a bonus, STICPAY eWallets offer low fees and support several top market cap cryptocurrencies.
STICPAY fiat cash eWallet balances can be funded instantly using Bitcoin, Litecoin, and Ethereum.

As well as allowing users to withdraw crypto as cash by funding STICPAY eWallets, STICPAY users can store crypto and send crypto to individuals and businesses.

STICPAY is the world's first eWallet to provide merchant services that help global businesses start receiving and managing cryptocurrency payments.
The Only eWallet That Supports 33 Different Local Currencies
STICPAY support for digital currency is part of the reason why STICPAY has seen year on year growth of over 300% since 2018. However, STICPAY also gives other eWallet services a run for their money when it comes to support for fiat currencies.
At present, STICPAY supports 33 different local currencies. These include AED, AUD, CHF, CNY, EUR, GBP, HKD, HUF, IDR, INR, JPY, KHR, MXN, NPR, PEN, PHP, PLN, RUB, SGD, THB, USD, and VND.
With your STICPAY eWallet, sending and receiving local currencies has also never been easier. Unlike regular bank transfers, transactions from STICPAY eWallet to another STICPAY eWallet settle instantly while incurring fees as low as just 1%.
STICPAY Sign Up Requirements
To sign up and open a STICPAY eWallet, you will need to visit the official STICPAY website here. Like with other eWallet services, you will then need to enter your details and verify your identity with a government-issued form of ID. Lastly, you will need to confirm your address by uploading a copy of a recent utility bill.
STICPAY Card Requirements
To unlock the full features and benefits of STICPAY, you will need a STIC card. Without a card, you will still be able to send or receive payments, and withdraw funds to your local bank account. However, only with a STIC card will you be able to also access your eWallet funds instantly via any global ATM.
Thankfully, signing up for a STIC card is just as easy as signing up for a STICPAY eWallet.
Request a STIC card by completing a short form and verifying your identity inside your STICPAY eWallet.

Track the progress of your application directly through your STICPAY account.

When you receive your card, activate it by funding your card with $65 (€55 approx) from your existing eWallet balance.
How to Use STICPAY with TrustDice
At TrustDice, we are proud to be one of several leading online gaming platforms, that now offers native support for STICPAY. As a result, as soon as you have a verified STICPAY eWallet, you can fund your TustDice account instantly from your eWallet balance.
Use STICPAY to add funds to your TrustDice account instantly, without having to wait for regular bank transfers to complete.

Your funds will be deposited in a matter of minutes (though usually, in just a few seconds).

At present, your TrustDice account can be funded using Euros or JPY that you transfer from your STICPAY eWallet.
As a bonus, TrustDice also allows you to instantly withdraw your TrustDice winnings to STICPAY from your virtual gaming balance.
How to Deposit JPY/EUR via STICPAY on TrustDice
At TrustDice bitcoin casino, we make funding your casino balance with STICPAY just as easy as we make it to fund balances with Bitcoin.
To get started, click the 'Deposit' button in the top right corner of your TrustDice account page. When you do, you will see that we have added JPY and EUR funding options above our list of supported cryptocurrencies.
Next, select which currency you want to deposit. This will take you to a second page where you can enter the exact amount you want to fund your account with. All you then need to do is enter an amount, before signing into STICPAY to authorize your payment.
If you still have questions, check this video: Euro deposits
How to Withdraw JPY/EUR via STICPAY on TrustDice
After you deposit JPY or Euros on TrustDice, you can play all of our video slots and award-winning casino games. More importantly, you can now also withdraw your winnings directly to your STICPAY wallet after doing so.
To withdraw your winnings, navigate again to the deposit page. However, this time click 'Withdraw.' Next, enter your STICPAY eWallet email address and the amount you want to withdraw.
When you click the Withdraw button to confirm, we'll transfer your funds as soon as you enter your TrustDice security code.
If you still have questions, check this video:

Euro withdrawals
Related Articles: