5 Best Bitcoin Poker Games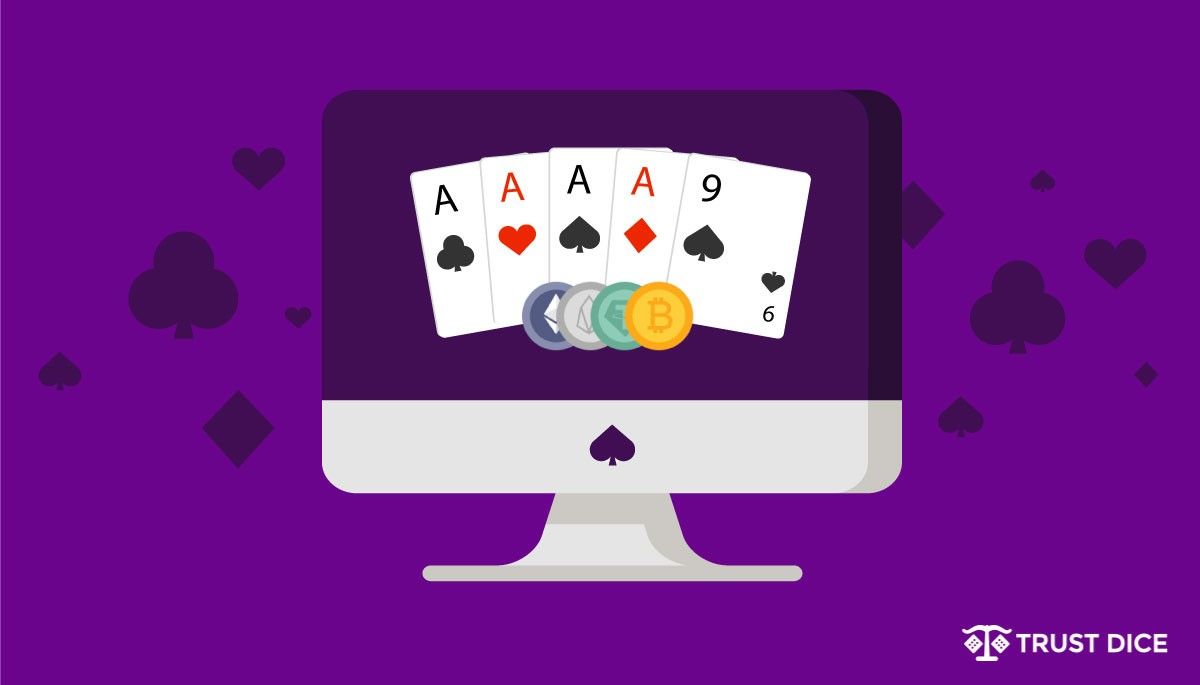 Online Poker – in its purest form – is identical to the game you will find in any casino, from the dimly-lit neighborhood joint to the mountain ranges of Las Vegas. All you have to do is buy your chips from the house – and sit down to play.

Although online poker has been a mainstay of the industry ever since the first online casinos opened up for business, innovation is key – which is why bitcoin poker and blockchain poker have been rapidly gaining in popularity.

In order to win a game of poker, you must come up with a hand of 5 cards higher than that of your opponent – or opponents. The hand can be anything from Five Of A Kind – the best possible combo – to a No Pair, where there actually is no combination of cards. However, if nobody has a better hand, you can still win with it! Furthermore, bluffing is a huge part of poker – so if you play it right, you can make your opponent with a great hand fold and concede the pot, even if you have nothing.
What is the difference between Bitcoin poker and Blockchain poker?
Although bitcoin is a cryptocurrency based on blockchain technology, the term "bitcoin poker" refers to a game of poker played against the house, with no other competing players. If you hear the term blockchain poker, you are hearing about a game played against other players – verified by blockchain technology – where the house deals the card and takes its cut. To play a game of online blockchain poker, you'll have to stick around until there are enough players to make a full table. Check the blockchain poker here.
If you're playing bitcoin poker, you have a variety of poker games to choose from – from many different Poker sites. Let's talk about a few of the bitcoin poker variants available at TrustDice.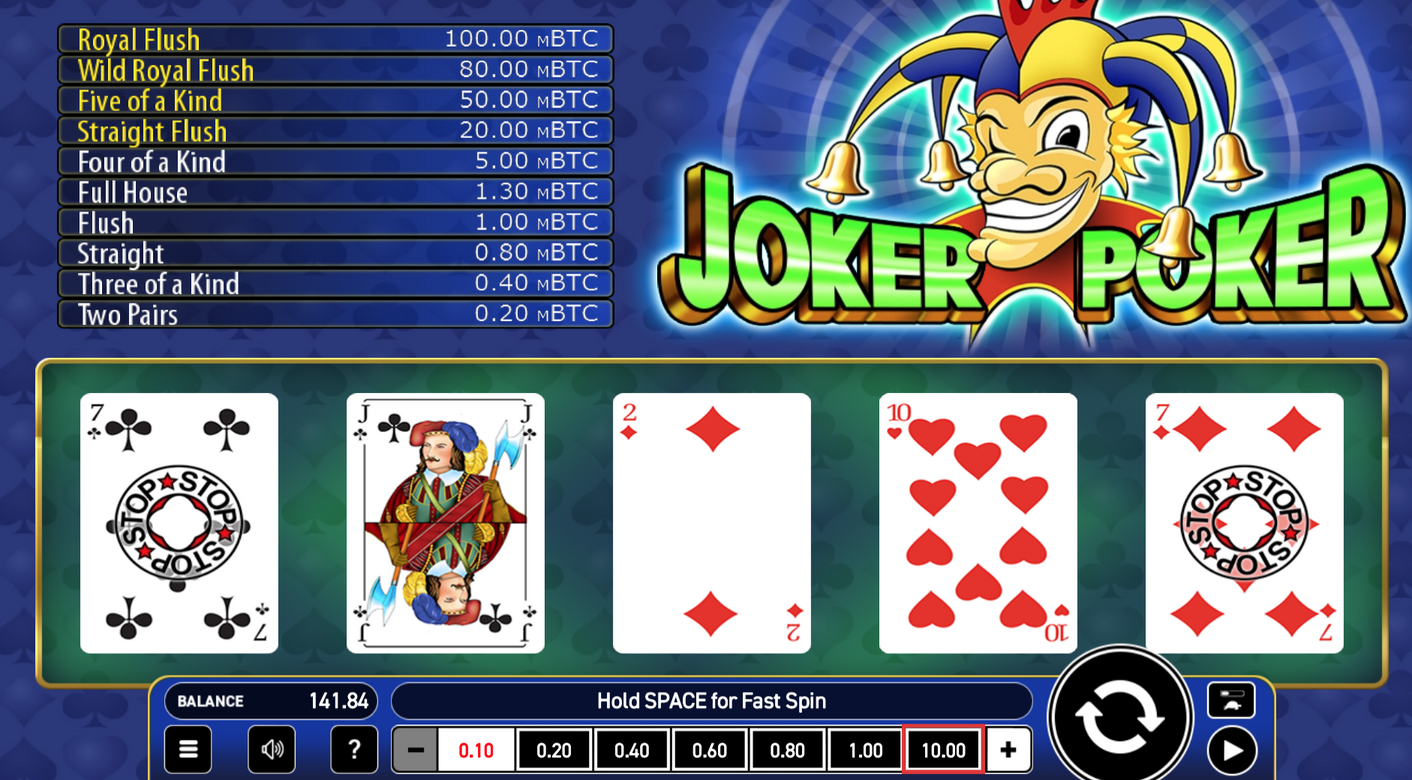 Enjoy a fantastic game of poker – but watch out for the Joker's sleeve full of tricks! Don't get comfy - instead of a classic table to spread your chips on, you will be shown combinations of cards to choose from – so beat the joker at his own mind games!

RTP: 96.07% and Max. win is 1,000x bet. You have to try this poker game! Game type: Video Poker. Game provider: Wazdan.
Three hands, three pots – but no wildcards here. Once the game starts, you will be dealt 13 cards. Now, you have to make 3 different hands, with each hand trumping the one below – an extra challenge for experienced poker players.

Sit down and have a taste of digital caviar. Russian Poker is a nesting doll of surprises – from the beautiful artsy folk patterns on the back of the cards to the fiery sensations brought on by a massive jackpot, Russian Poker is a reliable way to spend a few good hours with a glass of Vodka.

Incredible high RTP: 99.7%. Game Type: Table game. Game provider: Evoplay.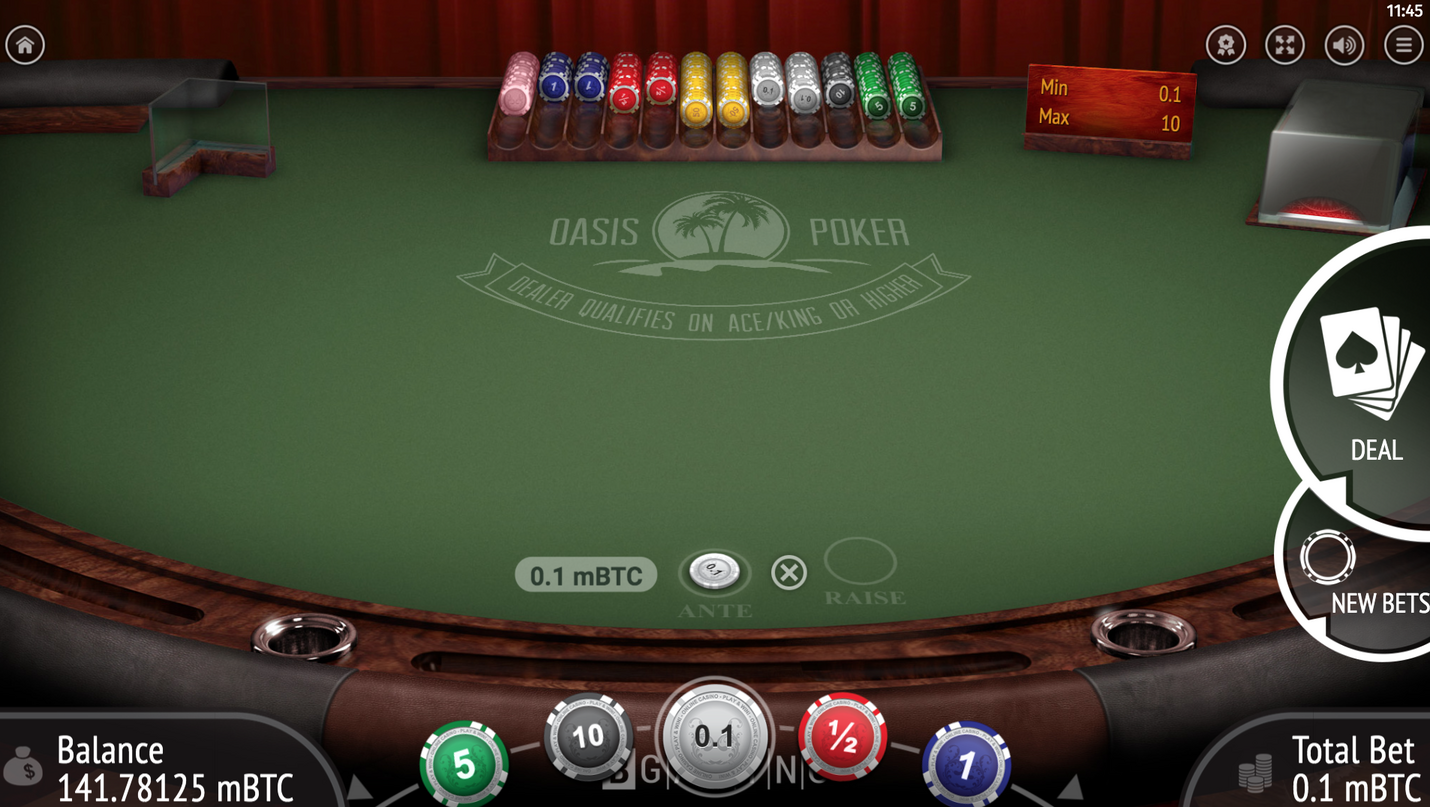 A classic green felt table, colorful chips and crisp zinging sounds – Oasis Poker is an interesting take on the German game brought to the boatmen of New Orleans. When you're in the heat of the moment – whether before folding or raising the stakes higher than your unsuspecting opponent – you can switch your cards for fresh ones. Not for free, of course – but the price is low for another shot at the stars. Dig in and go for that royal flush that may be waiting for you just around the corner!

Good RPT rate: 98.96%. Game provider: Softswiss.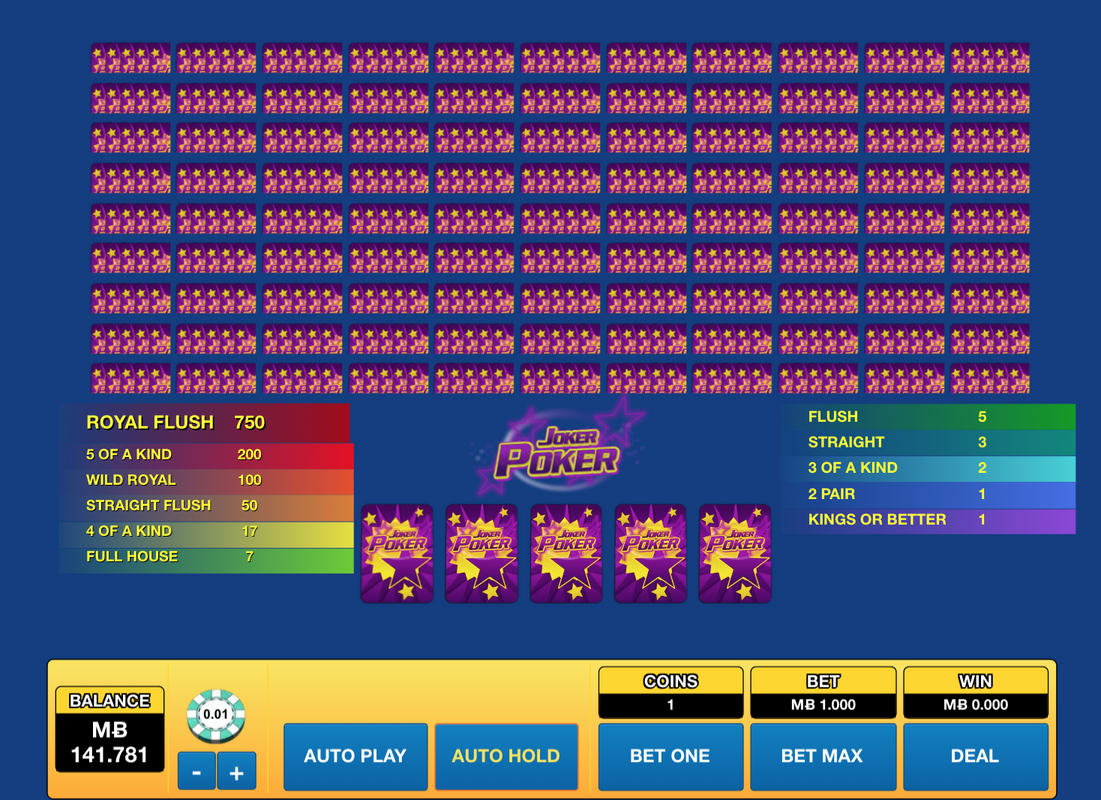 100 hands – just like regular Joker Poker, but bigger! Play with more cards and pull 10 after 10 from your never-ending deck. Twice the size of the game, twice the hours of fun – backed by the secure algorithms used in cryptocurrencies.

Playing a game with literally 100 Hands! Don't imagine, just try it now with Bitcoin, Ethereum, or EURO. Game provider: Habanero.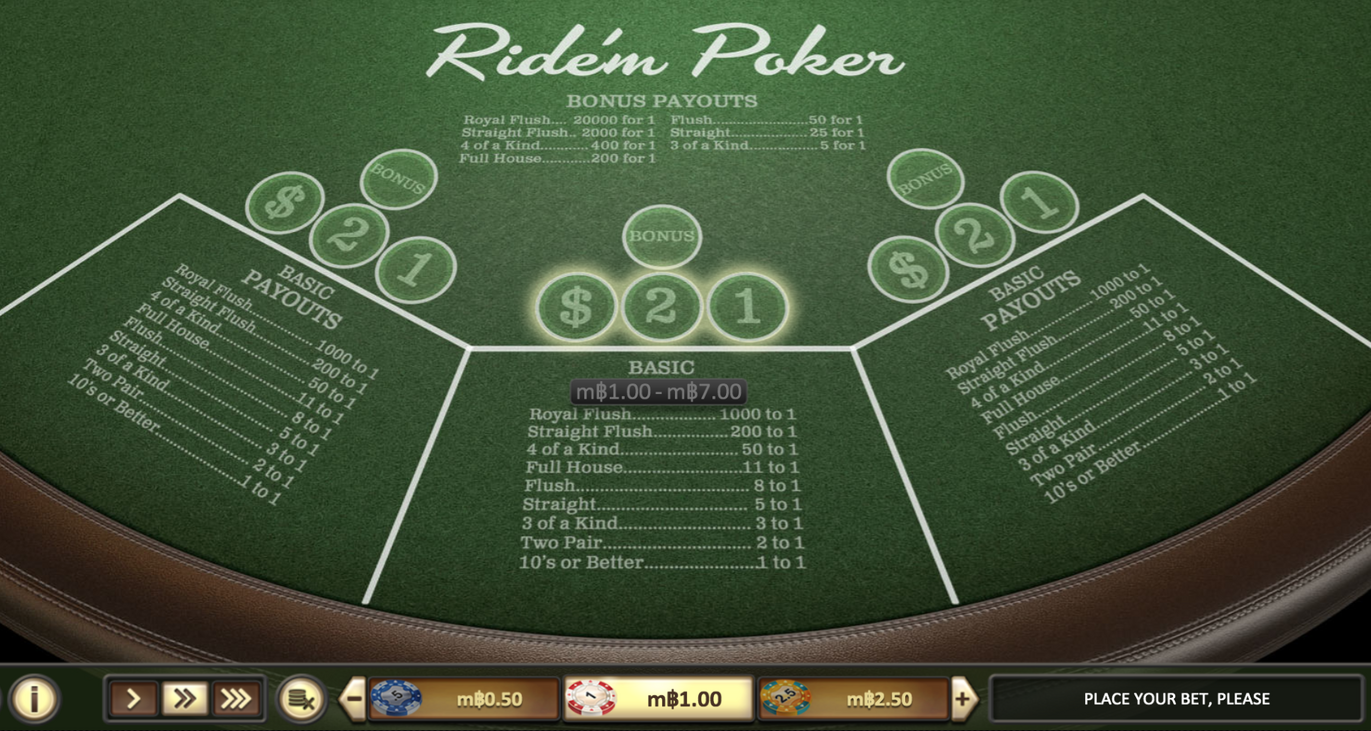 It's time to face off against your best friend and worst enemy – yourself. In a game of Ride'm Poker, the house deals you the cards, and you decide whether you want to pass or keep going. Play up to 3 hands at once – and as the house reveals your cards two at a time, know that Lady Luck is the one who will decide the course of your gaming session. Will you go high on the hog – or will you wonder what could have been? It's all up to you.

Pretty decent and popular casino game among Crypto players. Definitely, worth to try it. Game provider: BetSoft (BSG).
What Are The Main Combos In Poker?
The Top Combination in Poker is the Royal Flush – a 10, Jack, King, Queen and Ace will secure a victory any day.
Four of a Kind – get 4 cards of any number, and you're pretty close to the bullseye.
Full House – 3 cards of one rank and 2 of another. Try for 3 10s and 2 4s.
Flush – 5 random cards of any suit. For example, a 3, 6, 8, 9, and Queen of hearts.
Straight – Get 5 consecutive cards, no matter the suit.
Three of a kind – Get 3 cards of the same rank, and 2 different ones. For instance, 3 9s, a 4, and a 5.
Two Pairs – Get two pairs of cards with the same rank. The 5th card can be a random card.
Pair – A pair of cards of the same rank. The rest of the cards can be random – keep in mind that high numerical value cards can still be a ticket to victory!
No Pair – All of your cards are random. If nobody has a better hand, the player with the higher value cards takes the cake.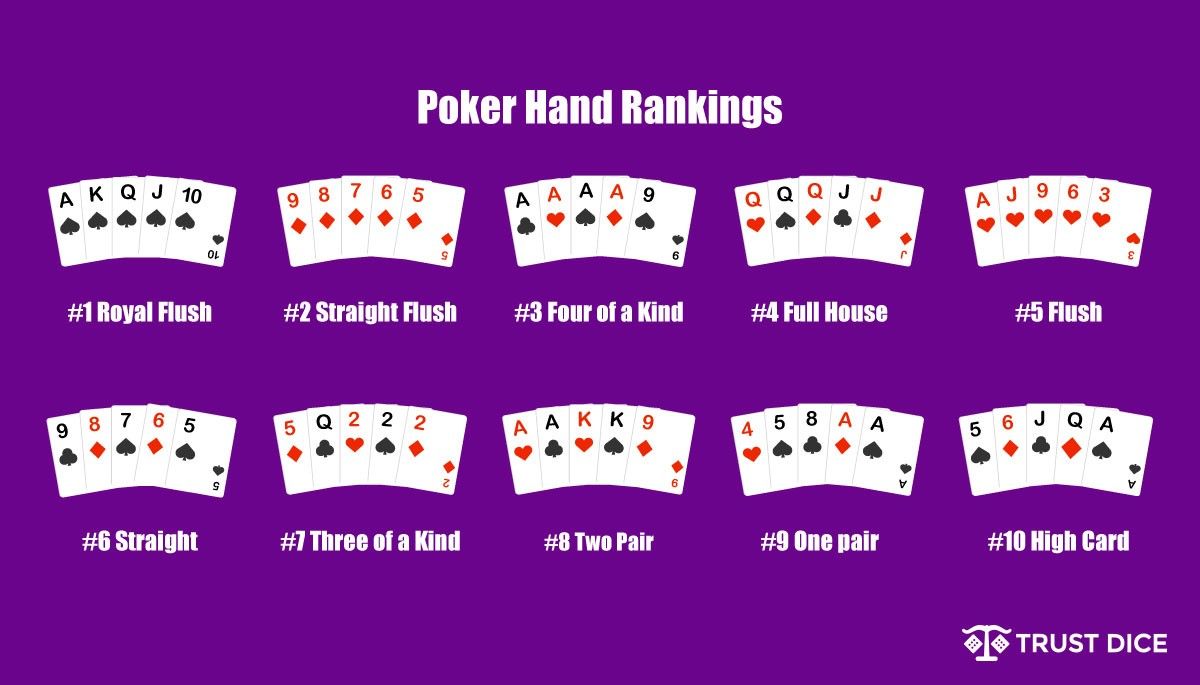 What Cryptocurrencies Can Be Used While Playing Poker At TrustDice?
At TrustDice, you can place your bets with chips paid for in USDT, Bitcoin, and Ethereum. If you prefer regular currencies, take advantage of TrustDice's payment partners who can exchange your fiat for you! Play with EUR and JPY at nearly no extra cost!
Where To Find A Great Poker Community?
If you'd like to shoot the breeze with poker players from all over the world, head for the poker subreddit! Once you're there, you'll join a thriving community of poker enthusiasts from all walks of life who are eager to discuss new strategies, rate casinos by their own experiences, and help out newcomers!
Why bet with bitcoin?
If you gamble with fiat, you'll have to pay taxes and commission every time you buy chips or withdraw them. Cryptocurrency, however, leaves you with all your winnings!
If you'd like to try one of our many poker variants, just come on in!
Related topics:
1. Bitcoin Casino: free spins & bonuses
2. Bitcoin Blackjack: Top games & Strategy & Tips