Bitcoin Trading: what is it & how it works?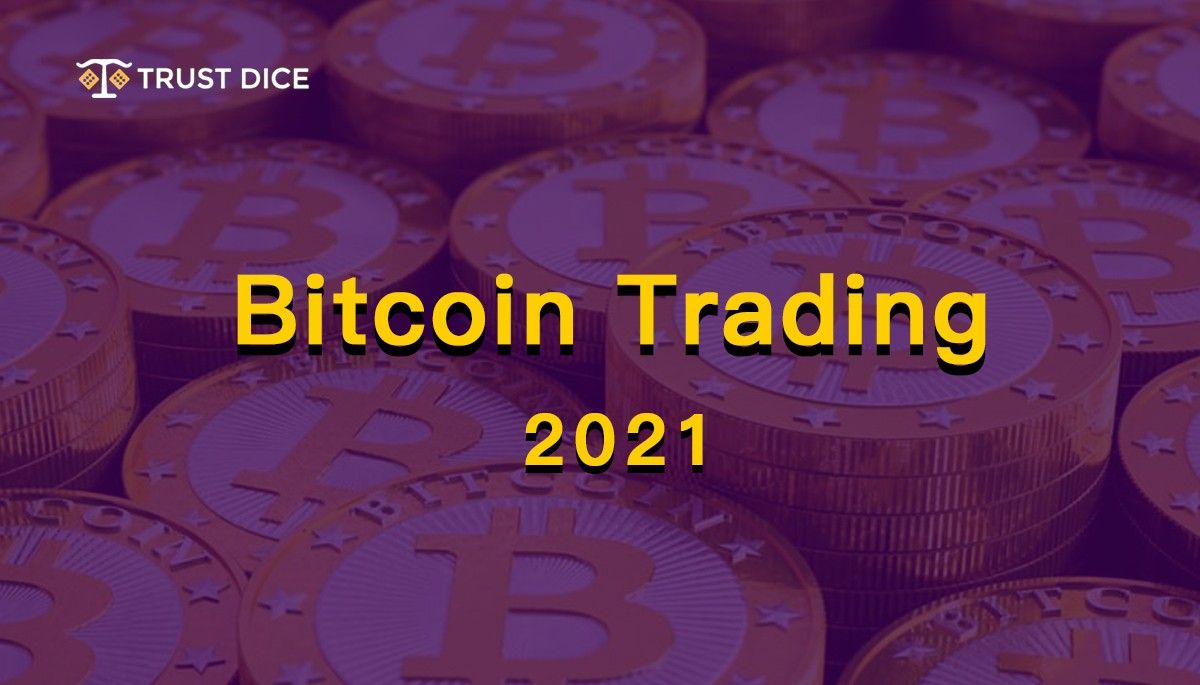 Since 2009 when the first Bitcoin was mined, bitcoin excites people and changes the world. Bitcoin has entered people's mind and life. It's 2021, people can even trade Bitcoin in markets and earn incredible amounts of money. Let's take our time and start with the main question.
What is Bitcoin Trading?
Essentially, trading with Bitcoin is like trading with USD or EUR, but you use digital currency to make an exchange between various crypto assets. You buy and sell BTC in the crypto-market, with several markets to choose like Bitcoin Futures, Over-the-Counter markets, and Bitcoin Options.
Is Bitcoin Trading Different from Traditional Trading?
To fully understand Bitcoin trading, first, you need a general view of what trading is and its fundamentals.
Trading is the buying and selling of goods or commodities in several financial markets. These markets can range from equities, forex —foreign exchange—, derivatives, and bonds.
There are other kinds of markets as well, depending on the exchange or trading platform. For instance, some platforms will allow Over-the-Counter —OTC— markets, future markets, or options. The main and most used markets are:

Stock exchange

:

In this market, companies with important projects come looking for a form of capitalization to pay for their projects or debts, offering part of their company in the form of shares and generating dividends to those who own them.


Index

:

Indexes are created by risk rating companies that are in charge of studying the evolution of a country's economy, averaging the weighted value of a certain group of shares in a particular market. One example is the American SP500 (Standard & Poor's), which averages the price of the 500 most important companies in the United States.


Forex

:

In this market, you trade currencies from different countries. This is a decentralized market, unlike the shares of companies that are traded on a stock exchange. Large banks and world governments participate in it, either to repatriate income they have in a currency other than their country or to finance purchases.
The last market, Forex, comes in handy in order to understand Bitcoin trading. In essence, you are doing the same thing with currencies, but in this case, it's digital currencies instead of fiat. The addition of cryptocurrencies into the market adds extra space for traders and investors who are keen to diversify their portfolios.
Before going into trading, you can check more about the advantages and disadvantages of trading with bitcoin.
How to do Bitcoin Trading?
As stated before, the essence of trading Bitcoin is the same as trading other assets in general —you buy and sell BTC in the crypto-market. The fundamentals of trading can be applied to Bitcoin using technical analysis. Although, keep in mind that major announcements and news can especially trigger major price drops or increases on Bitcoin. This also happens with other assets, but the inherent volatility of cryptocurrencies are to be considered carefully.
You buy when the price sits at a low level, and sell when the price increases considerably to take a profit out of it compared to your original investment. Consider the following: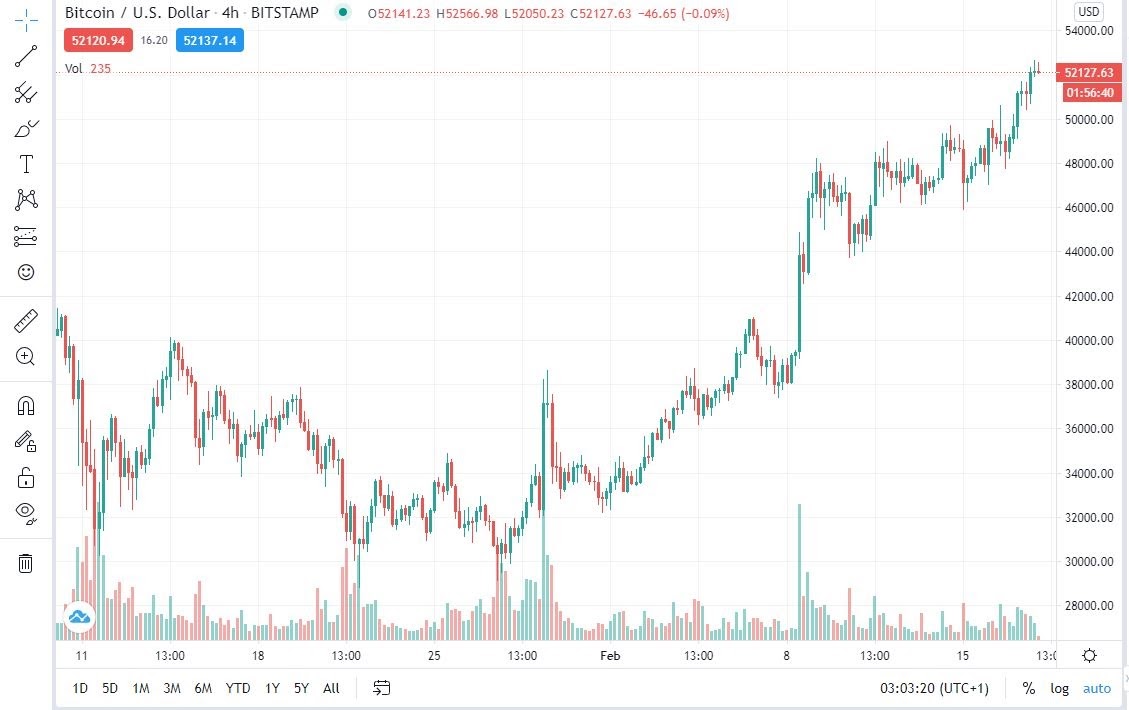 Notice the chart above: on a 4 hour basis, we can see extreme price swings. The inherent volatility of Bitcoin is a key element that can bring benefits as well as consequences.
Since January, Bitcoin was hovering between levels of $30,000 to $38,000 just after reaching a new All-Time High of $41,000, with no higher highs or lower lows. This is what is known as a consolidation zone —or consolidated market—, a moment where the price bounces from one price to another with no clear direction.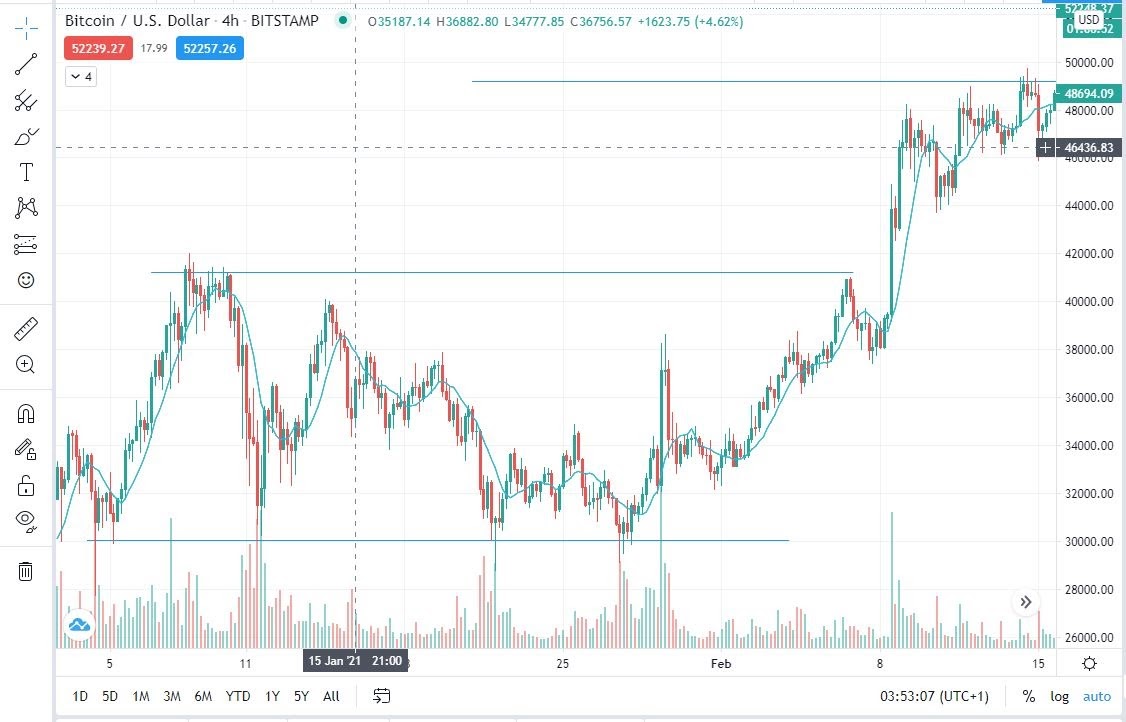 Notice in the chart above the price consolidation since it reached its peak on January 8. The price dipped more than -10%, entering a strong consolidation zone that swung the price between $30-38k levels before Tesla's announcement.
The several price swings can offer opportunities to enter and exit the market quickly, but this requires expertise in the topic and knowing how to read the charts. Many traders saw an opportunity in the $30K zone, and entered the market again hoping the price would soon skyrocketed again considering the several institutional demands for Bitcoin.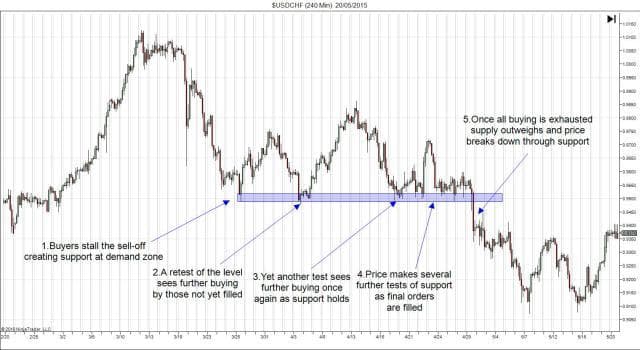 This is a USD/CHF chart, but the technical analysis works the same way for Bitcoin. Applied to BTC/USD, will have the next scenario: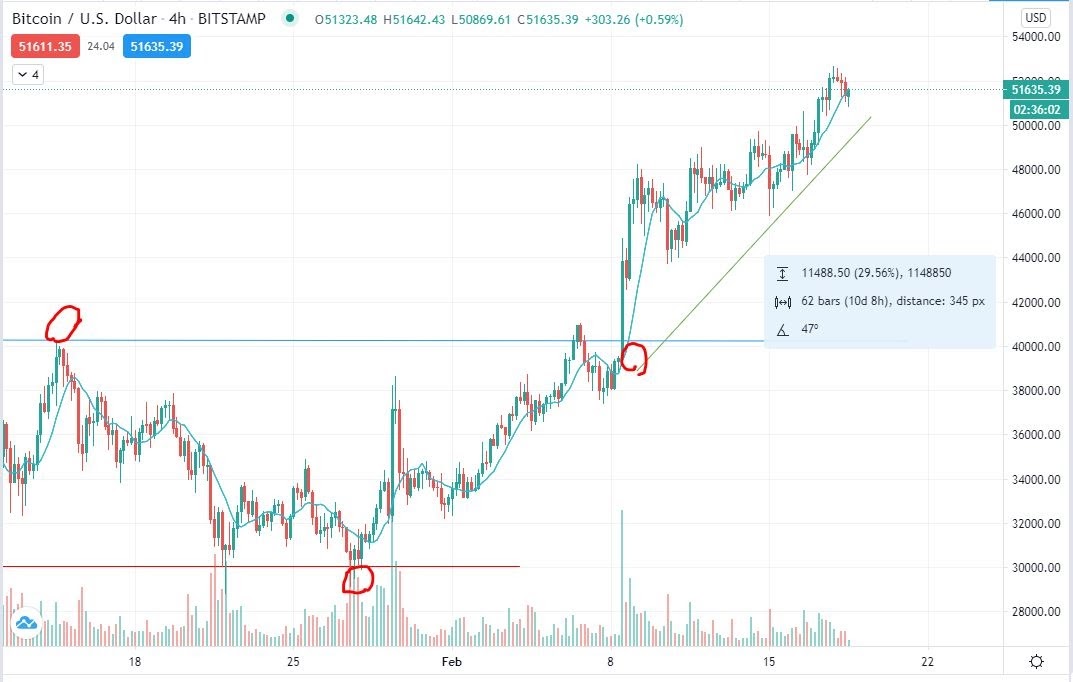 The red line denotes a support level and the blue line the resistance level. After breaking a resistance level, depending on price speed —which is driven by greed or fear—, the blue line becomes a support level, which takes you to the next scenario: the price will test that recent support level, which can lead to three things:

1) The price consolidates until something moves the market (news, announcements, etc).
2) The price tumbles and drops, which can be viewed as a price correction after a long uptrend.
3) The price doesn't test that support level, rather, it continues its trend with speed.
Reviewing the charts, a $40-45K price could become an essential support level for Bitcoin. While you can make a profit out of the price swings in the red dots presented in the chart, it is always better to avoid consolidated markets and look for speed at price.
Speed is essential: the more vertical the price direction is, the more speed the price has in it. This is what is called time-based pricing. The arrival of institutions has skyrocketed the price of Bitcoin, turning the price direction more vertical — which means a higher price velocity. Notice the green line after Elon Musk's Tesla announced buying $1.5 billion worth of Bitcoin. Retailers made huge profits, as the price skyrocketed over 15% in price, even surpassing the $50K barrier.
You can notice how the massive bullish candles on February 8, when Tesla made the announcement. The speed demonstrates the increase in demand —or panic selling if it's a downtrend—.
This is why it's important not only knowing how to make a proper technical analysis but also to keep an eye on what is going on with the crypto-market, as news can make powerful impacts on the price of Bitcoin.
Related articles: