How To Buy Dogecoin in 2022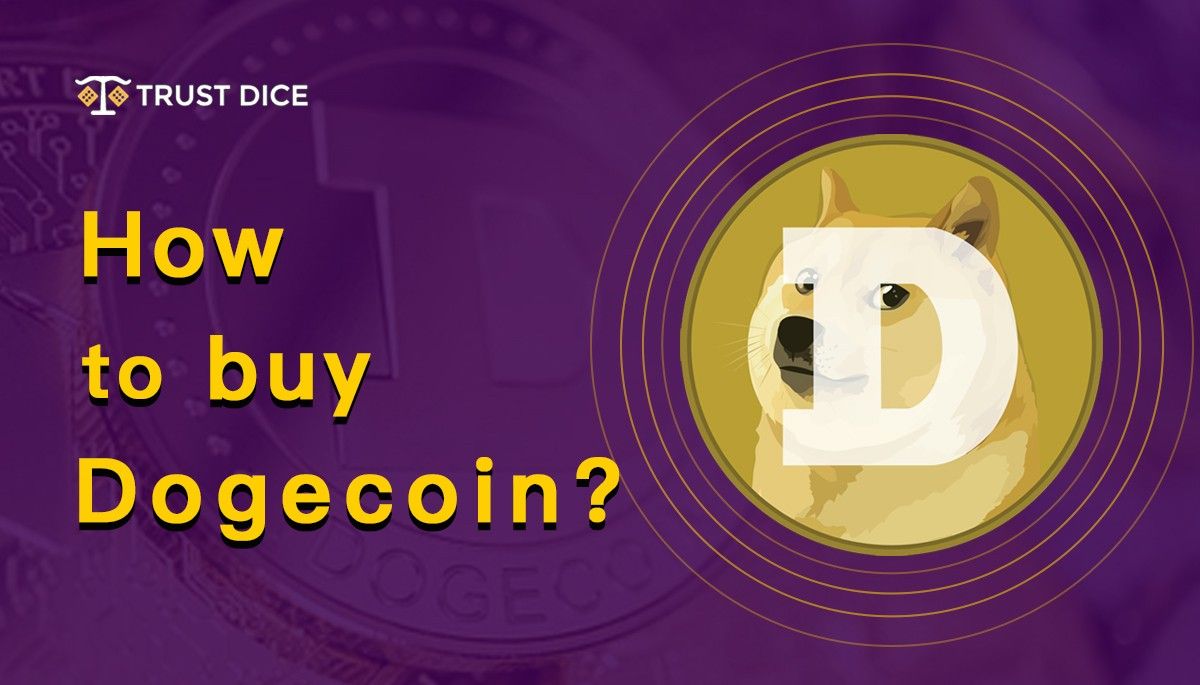 What Is Dogecoin?
Dogecoin is a cryptocurrency forked from Luckycoin, which in turn was forked from Litecoin back in 2013. Originally created as somewhat of an inside joke referring to doge, a popular Internet meme, it has since surged in popularity due to aggressive marketing early on and its general tongue-in-cheek humor and approachability.
It was created by Jackson Palmer and Billy Markus, a.k.a. Shibetoshi Nakamoto, a pseudonym that took the name of the Bitcoin creator and mixed it with Shiba, the breed of the dog featured on the coin.
The cryptocurrency has spiked and dropped in the past multiple times – but now due to support from Elon Musk, r/wallstreetbets, and others, the cryptocurrency is skyrocketing.
If you'd like to get Doge coins, you can buy them or get them from the dogecoin faucet.
Where do I buy Dogecoin?
It's even easier than buy USDT. If you're already a cryptocurrency trader, you can simply exchange some of your personal cryptocurrency stash for the doge himself, on a plethora of trading platforms such as Binance or Coinbase. If you keep your cryptocurrency stashed offline and don't want to spend any, you can also add fiat currency to your account and take it from there.
If you don't want to trade much, just enjoy the ride! You can also buy DOGE directly from your credit or debit card on Robinhood – or trade fiat for DOGE, without first buying another cryptocurrency, on the aforementioned Binance.
All you need to do is verify your ID to prevent bad actors and you're good to go!
Although ID verification may seem tiresome sometimes, all reputable crypto trading platforms have implemented it to prevent money laundering, fraud, and other financial crimes. As long as you stick to the well-known and well-loved trading sites, you can be sure they won't spread your personal information around.
Shortly, summarizing:
1) you can buy dogecoins with a Credit/Debit card on Binance, Coinbase, Robinhood. Example, screenshot from Binance: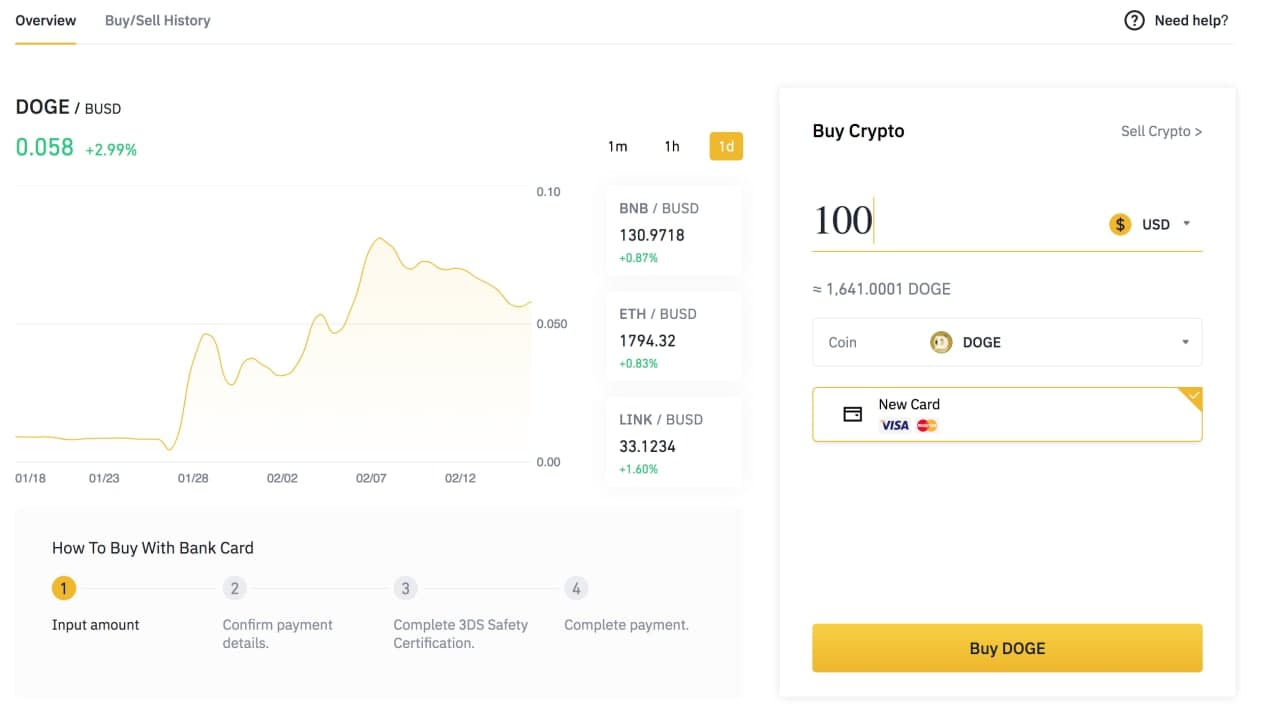 2) you can buy Dogecoins if you have another cryptocurrency like Bitcoin, Ethereum, USDT on any Crypto Exchange Site: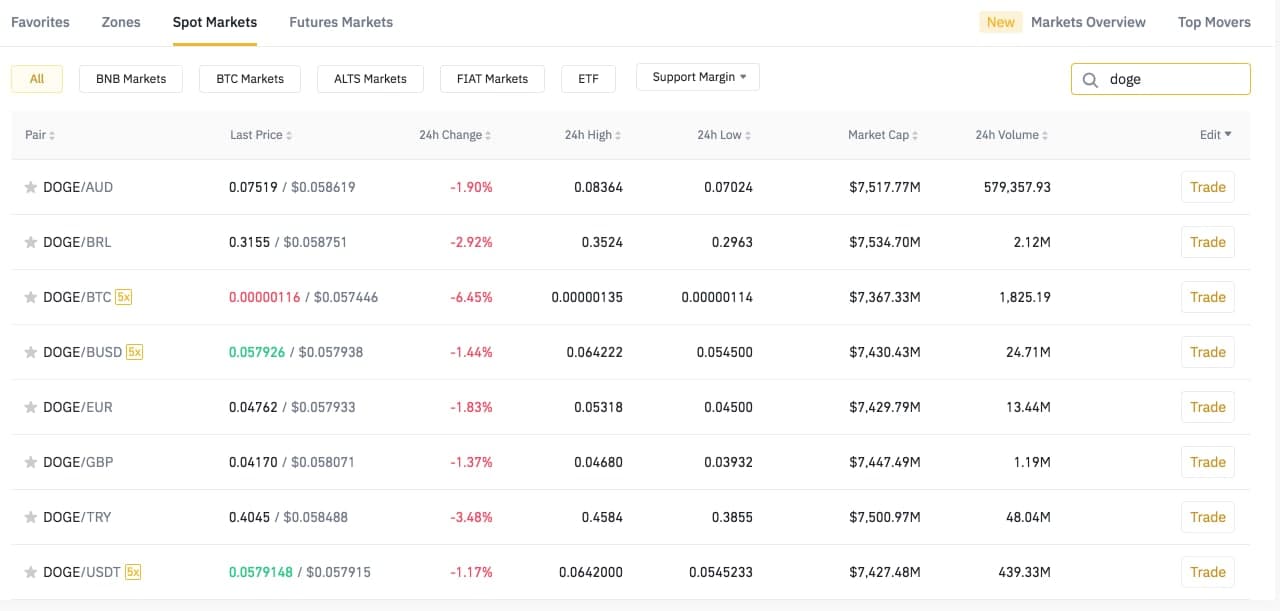 What Does A Dogecoin Address Look Like?
A Dogecoin address will always start with a capital D and will be followed by a number or a capitalized letter. For instance, DBXu2kgc3xtvCUWFcxFE3r9hEYgmuaaCyD is correct – but DbXu2kgc3xtvCUWFcxFE3r9hEYgmuaaCyD would be a fraudulent address.
Make sure to check addresses carefully before sending or receiving Doges – it's a booming market, and not everybody looking for a slice of the pie has the best intentions. Stay safe!
Who Even Supports Dogecoin?
First and foremost among Dogecoin's supporters is Elon Musk, who decided that he loved the cryptocurrency and started posting about it on Twitter, sending its price to the moon. His support has caught on – and Reddit forums dedicated to the cryptocurrency, such as r/Dogecoin as well as other huge communities on Reddit have seen a massive spike in discussions surrounding the cryptocurrency.
Although some people continue to regard the cryptocurrency in question as nothing more than a joke, many others have realized that the cryptocurrency has transcended meme status and may even become a coveted store of value in the future. Whaddaya know, life beats fiction.
The currency has grown quite a bit during the past few weeks – and for now, the cryptocurrency keeps going up. It's still cheap – so if you're hedging your bets on the cryptocurrency continuing to grow, now would be a good time to get in on the action!
Where I can discuss more about Dogecoins?
The best places to do that:
a) Reddit: Dogecoins subbreddit - r/Dogecoin.
b) Twitter: Follow Dogecoin Twitter or just search for hashtag #Dogecoin and you will find lots of people posts regarding Dogecoin.
c) Facebook: Biggest page related to Doge - Facebook Dogecoin.
RELATED ARTICLES:
1. Dogecoin Faucets that work in 2022