BitOasis Review: How To Buy Bitcoin in UAE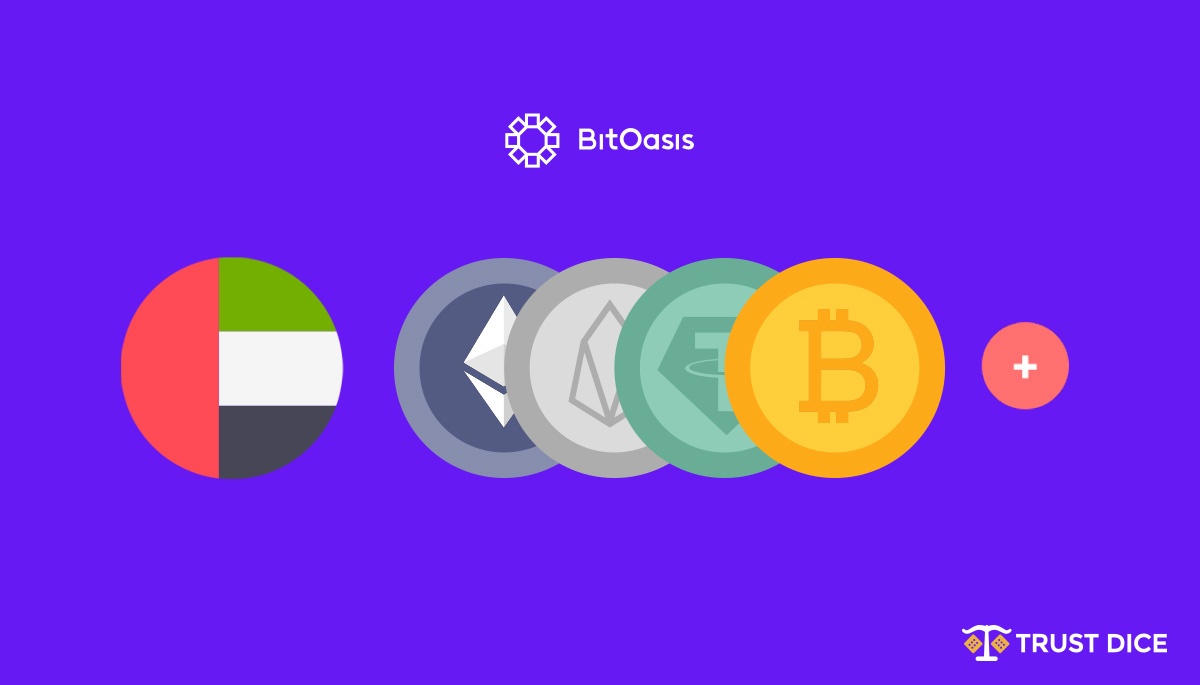 There are thousands of different cryptocurrency exchanges online today — choosing one can be difficult. When selecting a crypto exchange, it's best to look for a platform that allows users to trade a wide range of cryptocurrencies as well as traditional fiat currency.
BitOasis is a highly popular exchange that offers a wide range of cryptocurrency pairs, competitive trading fees, and fiat currency support.
What is BitOasis?
BitOasis is a cryptocurrency exchange based in the United Arab Emirates. The BitOasis platform is ideal for cryptocurrency traders based in Middle Eastern countries, as it can be difficult to trade cryptocurrency in a compliant manner in some regions through US-based cryptocurrency exchanges.
The BitOasis platform has been active online from 2015 and allows traders from six different countries to deposit funds for trading using a debit or credit card. These countries are:
Saudi Arabia

Qatar

UAE

Bahrain

Oman

Kuwait
It's also possible for cryptocurrency traders from anywhere else in the world to trade on BitOasis using cryptocurrency only.
The BitOasis platform supports 8 different cryptocurrencies, with the primary currency of the platform paired in United Arab Emirates Dirham (AED). These cryptocurrencies are Bitcoin, Ethereum, Litecoin, Bitcoin Cash, Ethereum Classic, ZCash, Stellar Lumens, and Ripple.
How to Buy Bitcoin or ETH on BitOasis
Understanding how to use BitOasis isn't difficult — buying Bitcoin or Ethereum on BitOasis is relatively straightforward. The first thing you'll need to do in order to trade on BitOasis is to create an account, which can be performed by clicking the "Sign Up" button on the BitOasis website.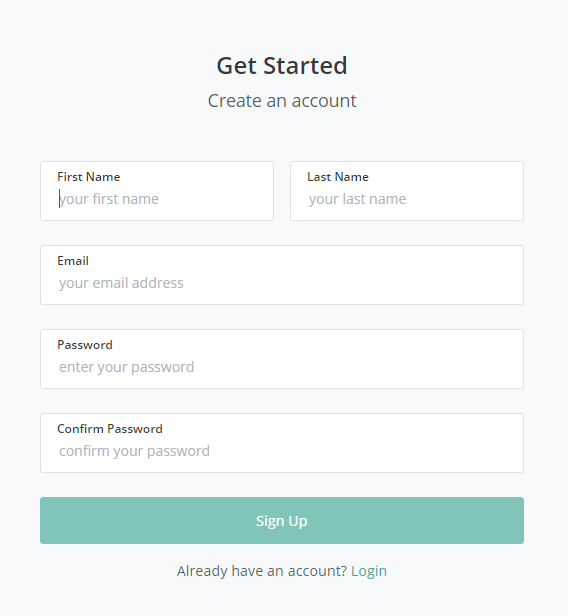 BitOasis will then send an email address with a confirmation code that can be used to confirm your email address. You'll also need to set up a mobile phone number and register it with an OTP sms in order to enable two-factor authentication.
When you've set up your account, you'll be able to view the BitOasis dashboard, which looks like this: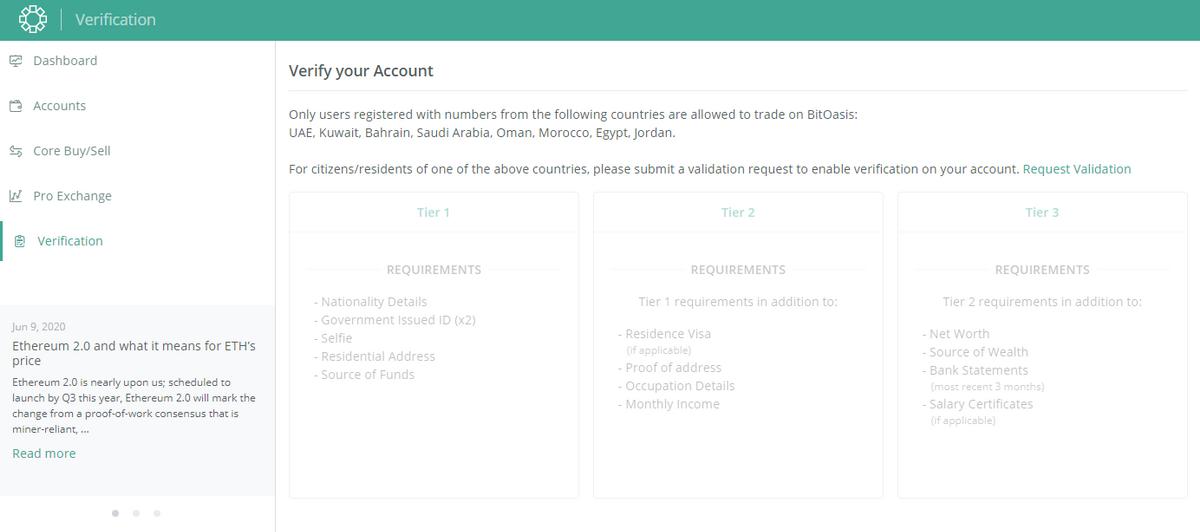 In order to purchase Bitcoin or Ethereum with a credit or debit card on BitOasis, you'll need to complete verification. To verify your account, click "Verification" on the dashboard sideboard, which will take you to the verification process wizard.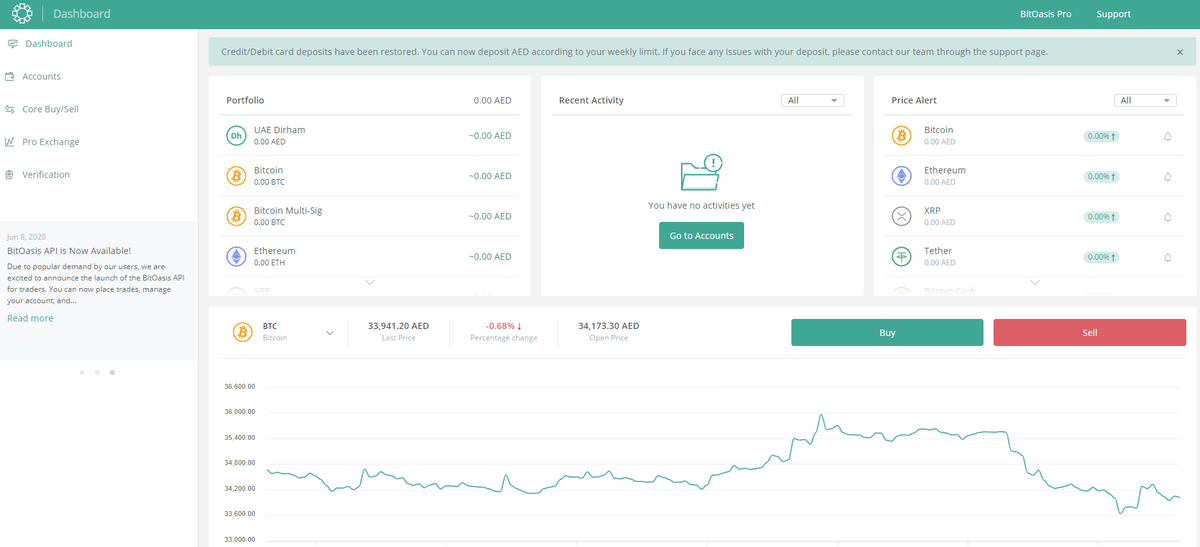 The minimum amount of verification required in order to start buying Bitcoin or Ethereum on BitOasis is Tier 1, which requires two government-issued IDs, a selfie image, a residential address, and a source of funds.
When your account is verified, you'll need to navigate to "Core Buy/Sell" via the dashboard. Through this section you will be able to select either BTC or ETH and provide credit or debit card details, and make a purchase.
What are the Advantages and Disadvantages of BitOasis?
The biggest advantage provided by the platform is that Bitoasis Dubai traders or any traders that use Bitoasis UAE services are able to fund their accounts legally and safely.
BitOasis fees are relatively competitive when compared to other exchanges that service the same region. Like many exchanges, BitOasis fees are based on maker/taker structures. Maker fees start at 0.25% for accounts that trade up to $250,000 per month. Market taker fees start at 0.5% for accounts that trade up to $250,000 per month.
While BitOasis fees are competitive, BitOasis withdrawals in fiat currency can take slightly longer than other exchanges. BitOasis withdrawals can take up to 10 working days to process.
BitOasis on Social Media
There are multiple platforms that allow users to discuss their experiences with BitOasis. The BitOasis Reddit subreddit, /r/BitOasis is intermittently active. BitOasis also manages a Facebook page. Importantly, BitOasis also runs an official BitOasis Telegram channel.
BitOasis Feedback From Traders
BitOasis has relatively positive reviews online, with a 3.9 score on Facebook. BitOasis also has a generally positive rating on TrustPilot, with users based in the UAE and Middle East giving positive feedback.
Overall, BitOasis is a reliable exchange that provides traders based in the Middle East with a legal, straightforward way to buy Bitcoin and Ethereum with competitive fees.
Related topics: