The Ultimate Guide to the 7 Best SatoshiDice Strategies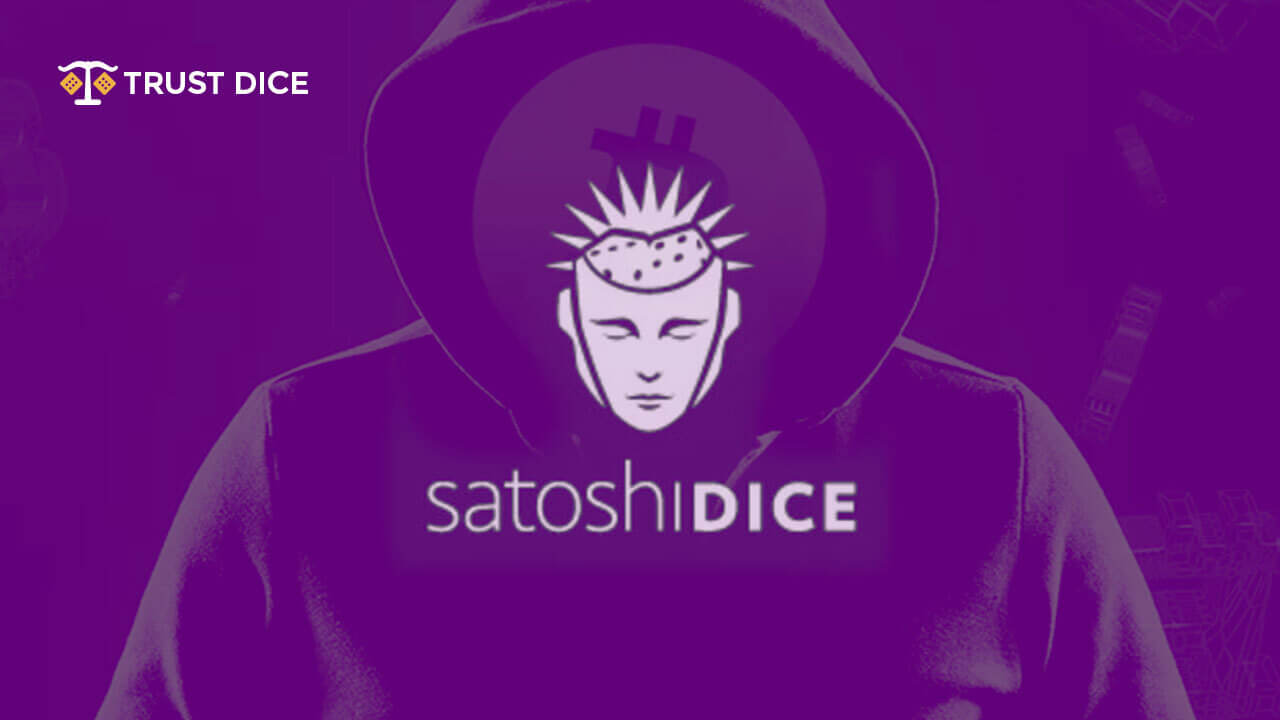 Satoshi Dice is one of the best options if you are looking to play crypto dice games. This dice game platform is regarded as the first and greatest Bitcoin gambling site. And this is because SatoshiDice continues to provide a unique experience to even the most jaded SatoshiDice players.
SatoshiDice is a simple Bitcoin dice game launched in 2012 and has achieved massive popularity despite a limited Bitcoin dice game offering.
At its inception, SatoshiDice only offered a single Bitcoin dice game, but its ease of use and simplicity attracted many Bitcoin dice players, thus, increasing its popularity. This Bitcoin dice game eventually attracted enough players from a bulk of Bitcoin's early network traffic, primarily for transactions on the site.
Many people assume that Bitcoin gambling is only for fun and that luck plays a significant part in winning, especially in a simple Bitcoin game like SatoshiDice. This, however, could not be further from the truth.
It is vital to have a SatoshiDice strategy to win big. There are many of them; however, we feel the one below is the most successful SatoshiDice strategy:


You must place a bet on a number less than 27357. In this situation, the coefficient is x2.35, which means that if you win, you will receive the following rate multiplied by a factor of 2.35. Therefore, the chances of winning in each round are somewhat less than 50% in this situation.
The sum lost should be increased until the game is won. When "chip" wins, it is reset to its original value.


The first rate must be established based on the amount of money you are ready to pay. You must have at least 15 rounds by doubling while doing this. Thus, if your beginning bet is 10 Satoshi, you must have at least 300000 Satoshi in your account.


The amount of the bet is proportionate to the rise in the balance. So increase your initial bet as soon as your balance allows it.


You need to adapt yourself to other SatoshiDice strategies to enhance your chances of winning. The strategies are similar to those for a traditional dice game (except that the betting is mainly based on blockchain), and the dice rolls have the same probability as in traditional dice games.
SatoshiDice strategies generally rely on the players' staking plans, such as whether they would wager on the high or low of the Bitcoin dice rolls.Therefore, to follow any Bitcoin dice strategy perfectly, you need to understand the game first.
To play Satoshi Dice, you first need to place a bet by depositing some Bitcoin cash into a specified deposit address. When the Bitcoin cash is deposited, "The Ghost of Satoshi" will roll the dice, and you must choose your lucky number. If the lucky number you have picked is less than the number drawn by the random number generator, you win.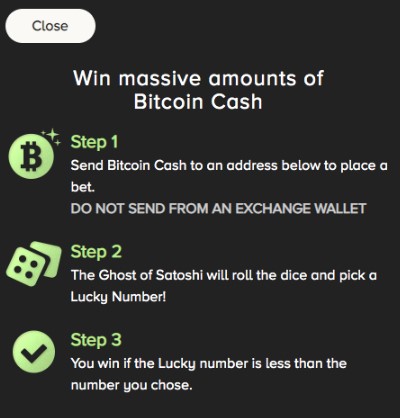 So, we have compiled some popular SatoshiDice strategies that will enhance your chances of winning;


1.) Martingale Strategy
The Martingale Strategy is an 18th-century strategy developed in France that works well in modern Bitcoin dice games. It is a SatoshiDice strategy that requires you, following each loss, to increase your bet until you win.
You will receive all of the coins you invested up to the win, plus a profit equivalent to your original stake. After each win, you need to start a new betting cycle by placing the initial bet once more.
However, the Martingale Strategy has its own positive and negative traits. On the positive side, it has straightforward rules to follow, and there are no hard or fast rules on the number of coins you can bet on. As a result, this is the best SatoshiDice strategy for short-term profit that you can use.
From a negative perspective, contrary to the benefits the Martingale Strategy offers by allowing you to pick the number of coins, the number of coins limits your ability to double your stake to ensure you win. Thus, you shouldn't bet more than you can afford to lose while using the Martingale Strategy in your game plans.


2.) Break-even Martingale Strategy
The break-even Martingale strategy is identical to the classic Martingale strategy. The only difference is a slower rate of stake increases throughout the staking process. In other words, you will hold your losing streak for longer, but you will ultimately end up with a solid win.


3.) Inverse Martingale Strategy
The Inverse Martingale Strategy is, as the name implies, the opposite of the Martingale Strategy. In this strategy, you must increase your bet when you win rather than only when you lose.
Thus, you should bet a 50% stake on your wins, and it will allow you to keep half of your winnings even if you lose the staked 50%.


4.) D'Alembert Strategy
This SatoshiDice strategy is more conservative since it involves increasing the bet each time you lose and decreasing it each time you win a Bitcoin dice roll. However, your chances of recouping your losses with a single winning hand are dependent on the number of Bitcoin dice rolls you had before winning.
The D'Alembert Strategy has advantages and disadvantages. It is less risky than the Martingale Strategy and adheres to a structured betting method. However, the D'Alembert Strategy's disadvantage is that recuperating your losses in a single round is rare. Thus, it is difficult for you to recoup all of your losses.


5.) The Paroli Strategy
In the Paroli Strategy, you begin the game by betting a predetermined amount. Then, you can double it on the next Bitcoin dice roll if your bet wins until you lose. However, if you continue to be on a winning streak and have already won large, you will need to moderate your bet.
The Paroli Strategy is the safest option compared to the Martingale Strategy, Break-Even Martingale Strategy, and Inverted Martingale Strategy. However, the disadvantage of this SatoshiDice strategy is that you must be on winning streaks to get significant profits, which seldom last long.


6.) 1-3-2-6 SatoshiDice strategy
The 1-3-2-6 SatoshiDice strategy is slightly complicated as the betting system is set to 1-3-2-6. For example, if you classify 1 unit as 1 mBTC, 3 units as 2 mBTC, 2 units as 3 mBTC, and 6 units as 4 mBTC, the 1-3-2-6 SatoshiDice strategy will be as follows:


You begin by betting one (1) unit (1 mBTC). If you lose, your next wager will remain at one unit. Continue to place the same wager until you win.


When you've won, go on to three (3) units (2 mBTC). Then, if you win again, increase your stake to two (2) units (3 mBTC) until you reach six (6) units (4 mBTC). However, if you lose during the system, you must restart your wagering at one (1) unit.


After you've worked your way up to six (6) units, revert to betting one (1) unit regardless of the outcome.


You can profit from this SatoshiDice strategy if you are on a winning streak. For example, if you reached the 1-3-2 of the system, you would put a final wager of six (6) units.
Even if you lose the last bet, you have already profited by six (6) units from your previous wins. This is also true if you lose after your second bet because you have already benefited two (2) units before your loss.
The 1-3-2-6 SatoshiDice strategy is a fantastic strategy since your profit levels fluctuate as you progress through the game. Furthermore, unlike the Martingale strategy, it does not need you to bet large amounts if you are on a losing streak.


7.) Hybrid SatoshiDice strategy
The Hybrid SatoshiDice strategy is created by combining one, two, or all SatoshiDice strategies. This is beneficial if you are betting for a lengthy period of time. However, stick to one SatoshiDice if you are on a winning streak.


Essential tips to remember
Always use provably fair websites to determine whether or not the Bitcoin games being played are fair.
Stop as soon as you realize you can no longer afford to lose. Set your personal budget before you start playing, and stop immediately when you've had enough of your wins. Control your greed since continual betting raises your chances of losing and may rob you of all your winnings.
Are you looking for the best Bitcoin casino to play your favorite dice games? TrustDice is a renowned and highly-rated Bitcoin casino offering an array of exciting and rewarding Bitcoin casino games. Play now!



Related Articles:
1. Crashbtc: Is it a legit Crash Casino Website?
2. How To Play Duelbits In The US