FreeBitco.in: Strategy, Hacks, and Bitcoin Faucet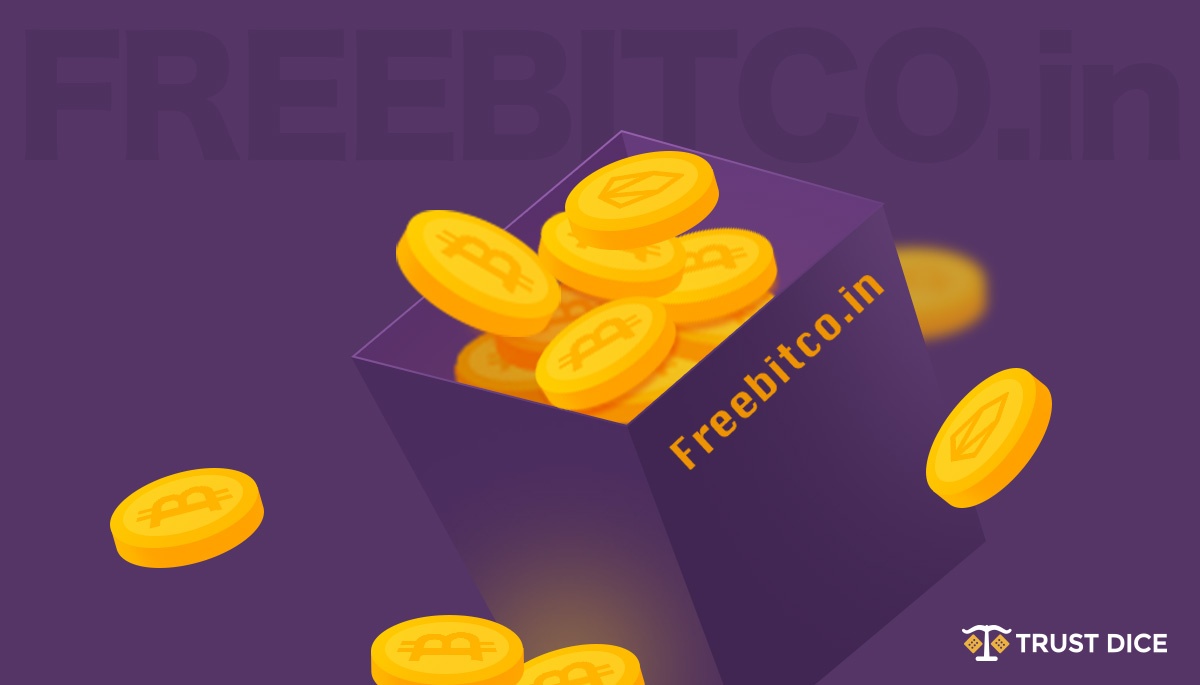 Bitcoin faucets have existed since early 2010, and are one of the easiest ways to get Bitcoin for free. The earliest Bitcoin faucets, such as Gavin Andresen's Bitcoin Faucet, provided users with a now-incredible amount of Free Bitcoin.
Modern Bitcoin faucets no longer provide such large amounts, but still provide users with a small fraction of a Bitcoin, in Satoshi.
FreeBitco.in is one of the longest-running Bitcoin faucets online today and, if used correctly, can provide impressive amounts of Bitcoin to users for free. Here are the best FreeBitco.in strategies, hacks, and tips.
What is Freebitco.in?
FreeBitco.in is one of the most popular Bitcoin faucets online today, and works in a very straightforward manner. Users of FreeBitco.in create an account and are provided with a simple faucet interface that allows them to claim a certain amount of Bitcoin every hour.
In addition to offering a free Bitcoin faucet, FreeBitco.in also provides user with a number of other features that include:
Provably fair HI-LO games that offer jackpot prizes

Referral contests

Wagering contests

Annual interest on all deposits to FreeBitco.in accounts, compounded daily

P2P event prediction

Free weekly lotteries

Competitions to win a Lamborghini
FreeBitco.in was first launched in 2012, and quickly gained over 59 million users per month (see the screenshot from Similar Web). Literally 59,890,000 people visits this site every month to get some free btc. It's the most visited bitcoin faucet site in the world!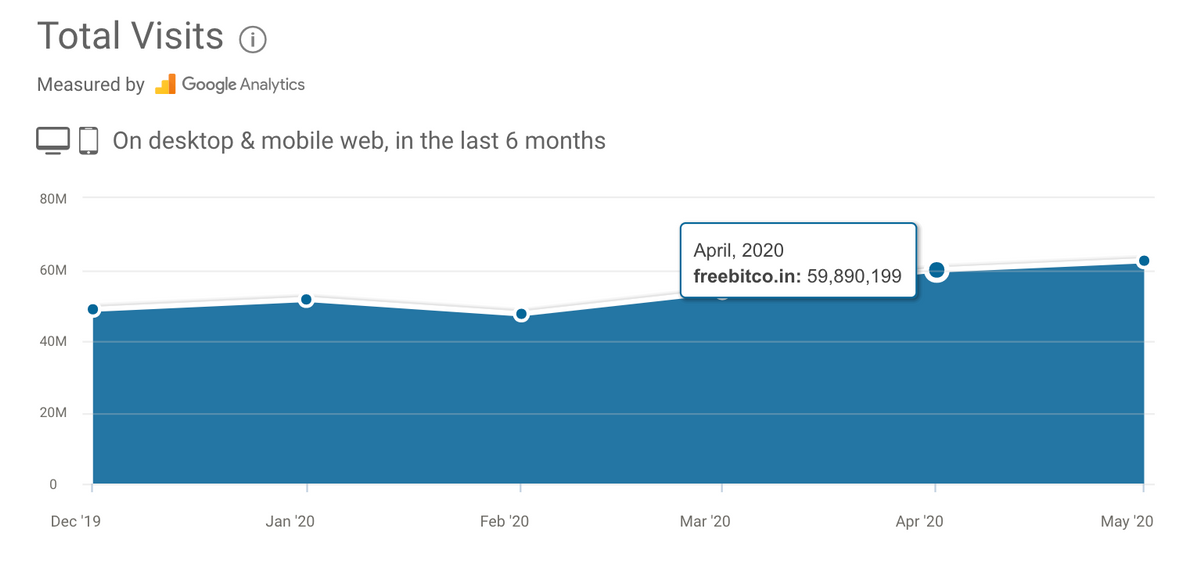 The amounts of Bitcoin the FreeBitco.in platform gives away has varied over the lifetime of the faucet, primarily due to the changing price of Bitcoin over the years.
In 2013, for example, FreeBitco.in gave away 400 Satoshi per claim. In 2020, however, the FreeBitco.in faucet provides around 30 Satoshi per claim

Free Roll, Multiply BTC, Lottery, and Contest are the four most popular features of FreeBitco.in. Here's how they work:
Free Roll
Free roll is extremely simple. Once per hour, players are able to unlock a free roll by completing a reCAPTCHA. Payouts scale across 10000 possible returns on a spin. 0-9885 will return a small amount of satoshi, while rarer numbers, such as 10000, can return as much as 0.05 BTC.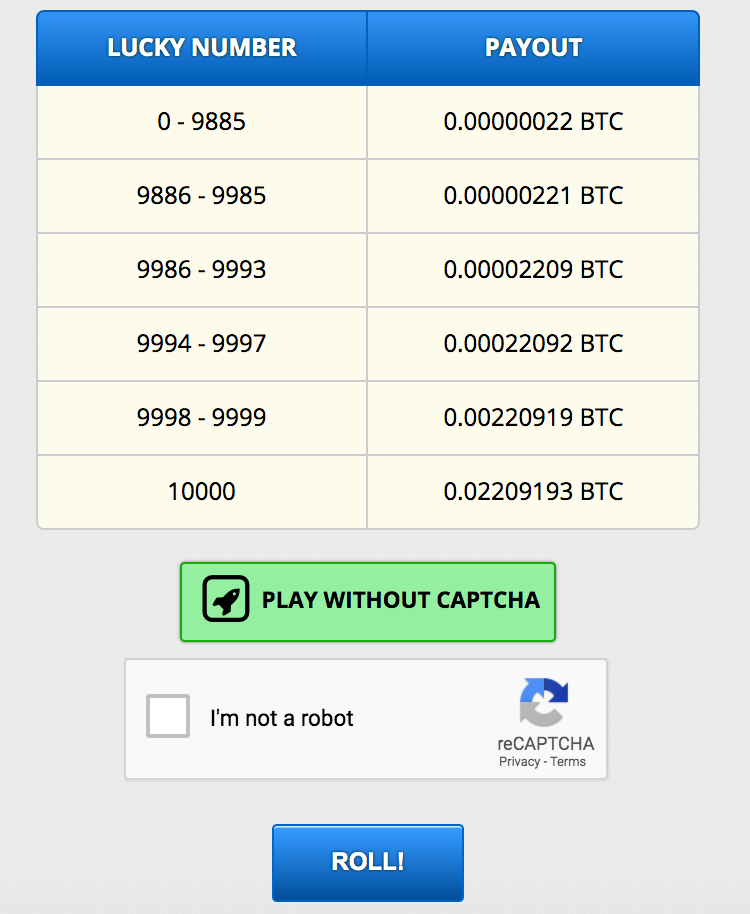 Bitcoin Hi-Lo game
Multiply BTC is a HI-LO game, built on provably fair blockchain technology. Users are able to select their own odds and stakes. The Multiply BTC game offers jackpots of up to 1 Bitcoin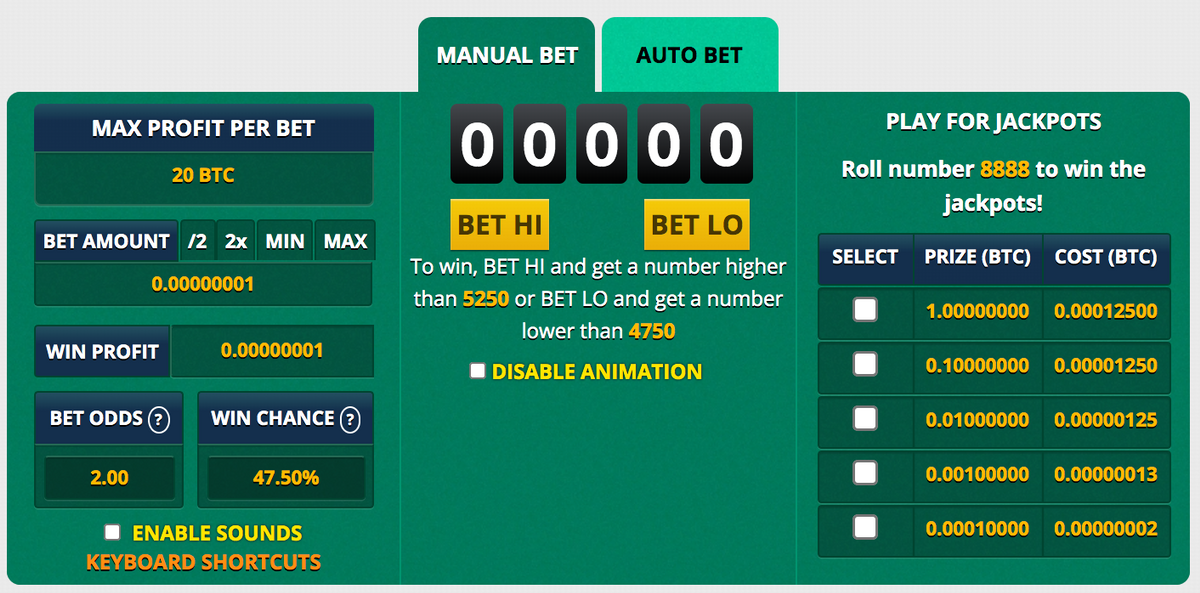 Lottery
The lottery feature of FreeBitco.in is exactly as it sounds — a weekly lottery that offers Bitcoin prizes. Tickets are obtained for free via referrals or by playing the Free Roll game. Also, players can buy as many lottery tickets as they want: 1 ticket costs - 1 satoshi. More tickets increase chances to win bigger bitcoin prizes.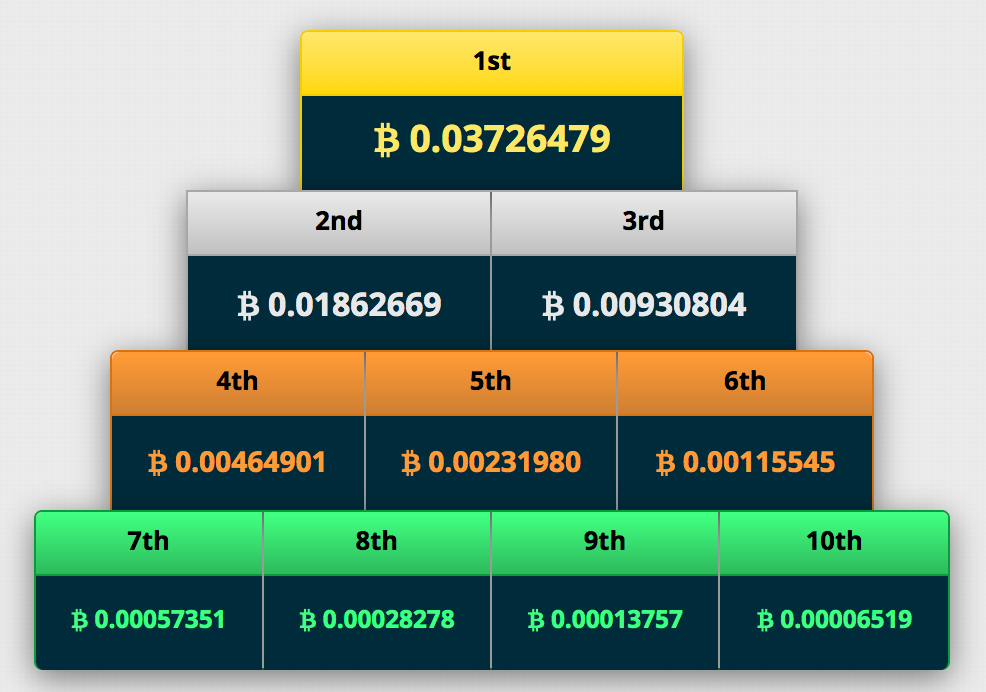 FreeBitco.in's wagering contest is a competition in which multiple players play the FreeBitco.in HI-LO dice game, or bet on events like sport, finance, cryptocurrencies, in order to place the most accurate wagers. The top 10 highest ranking players share in up to $21,600 worth of Bitcoin every month. Prizes are pretty big, like $10,000 in Bitcoin just for one place.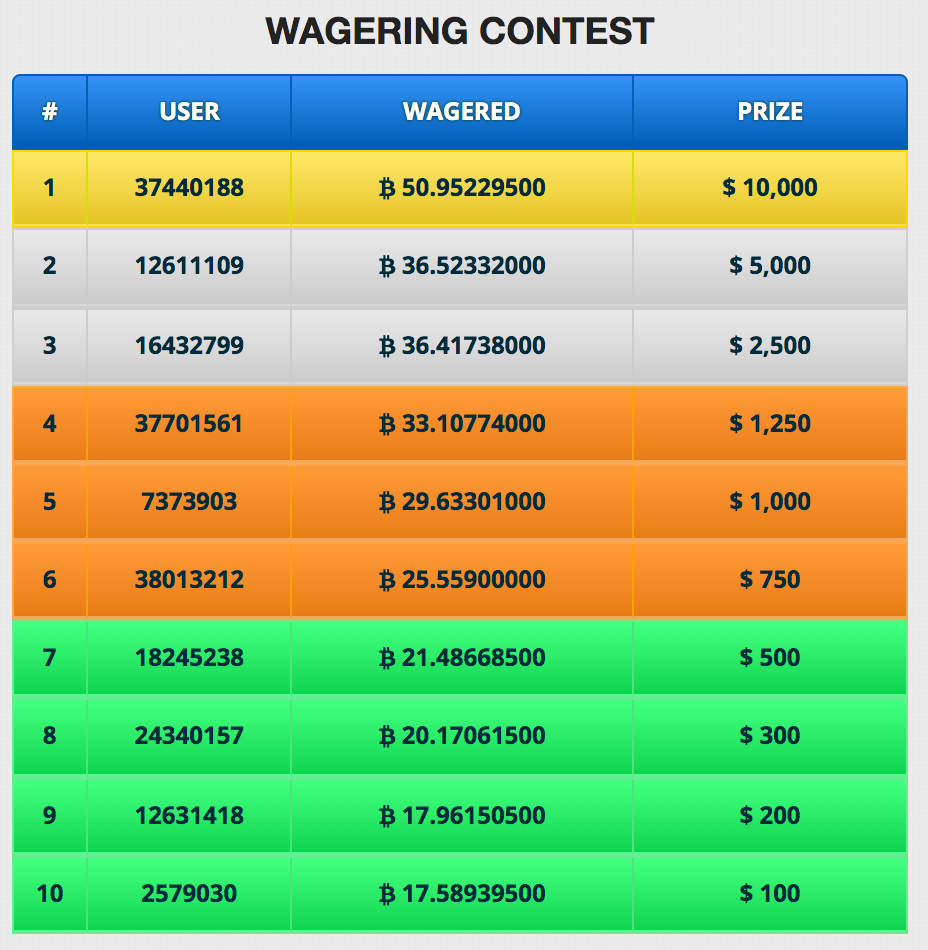 Freebitco.in

Referral
Players can use a Referral program to bring friends and earn bitcoin: 1) Free BTC - 50% of base prize; 2) 0.4% for every bet; 3) 25% daily interest of Earn BTC. You will have a personal referral link and banners to promote.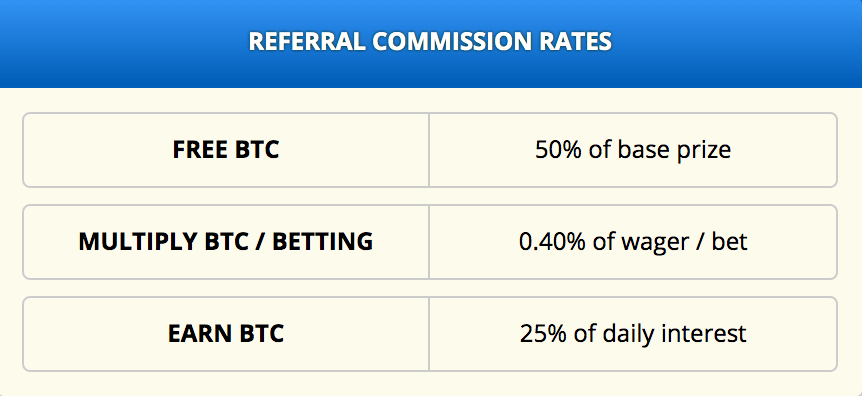 Freebitco.in

Strategy
Apart from HI-LO gaming strategies, a number of FreeBitco.in users have reported impressive gains when using automated systems to solve the reCAPTCHA necessary to complete free rolls.
FreeBitco.in offers the Free Roll function without captcha to users that deposit 0.0248 BTC or more in their account, or complete wagering requirements. Users that meet this requirement are able to use FireFox plugins that will automate the roll process and automatically generate free Bitcoin.
If you're interested in getting technical, it's possible to create a browser bot using Selenium, a tool designed to control a web browser through a program. A Japanese-language explanation is available via this link — full working full python code for a Selenium bot for FreeBitco.in is available within the linked article.
Freebitco.in Feedback
FreeBitco.in has mixed feedback via platforms such as TrustPilot and Reddit. Many users are satisfied with the referral programs offered by FreeBitco.in and the relatively simple to use faucet feature.
It's worth noting, however, that many users have submitted negative public reviews stating that FreeBitco.in does not pay out on wins through the various wagering games it offers.
Conclusion
FreeBitco.in is a popular and easy to use faucet platform, but there are mixed reviews concerning the gaming and wagering features it offers.
If you're interested in a platform that offers both faucet functionality and provably fair, trustworthy Bitcoin wagering, it's worth checking out TrustDice. The TrustDice faucet offers payouts in multiple cryptocurrencies simultaneously, including EOS, BTC, ETH, and USDT, alongside provably fair blockchain games that are guaranteed to pay out.
NEXT POST
PREVIOUS POST