The Best 10 Places To Play Crash Gambling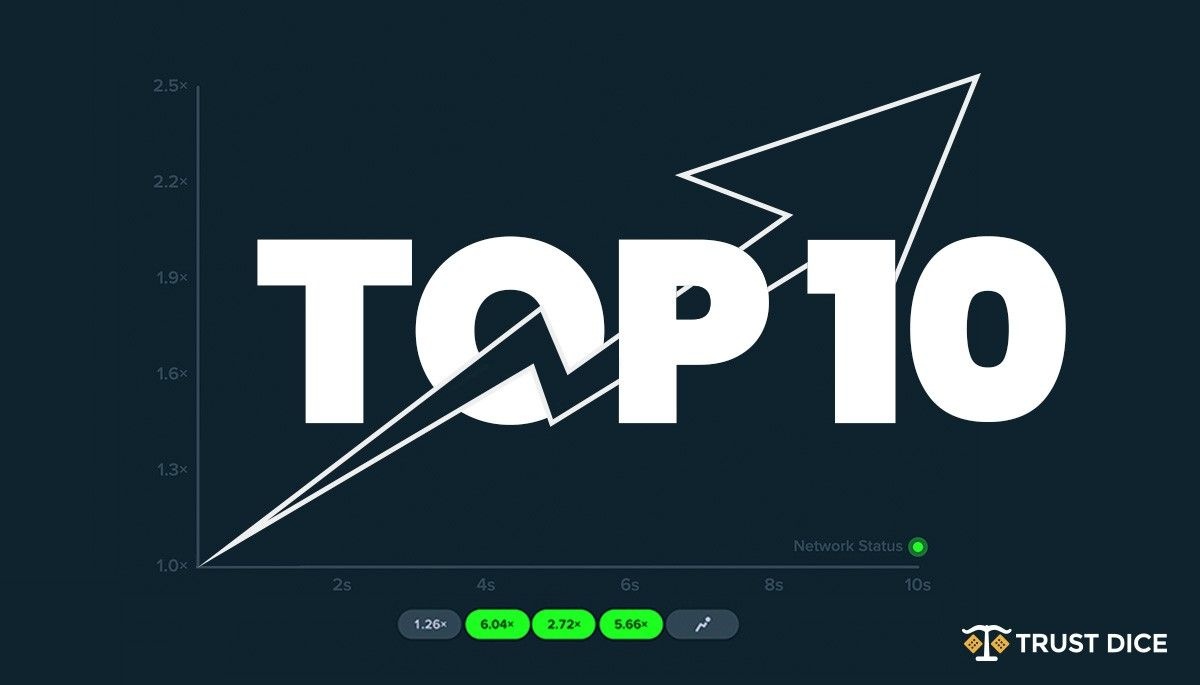 Crash gambling is a pretty simple game – it consists of a line that keeps going up and up, multiplying your bet – until it crashes. During this time period, you are free to cash out whenever you want, even automatically. If you cash out before the random crash, you keep your winnings – otherwise, you lose your whole bet until the next round. More about Crash gambling can be checked here.
Top Bitcoin Crash Casinos
Today we will be going over the best places to play crash with cryptocurrency. Whether due to a specific feature not found in other Crash games, multiple payment methods, or huge possible winnings, each of these sites has something that makes them stand out. However, we have a big question.
How to choose a Best Crash Gambling game?
As a player you should care about several thigns, when playing on Crash gambling sites. This rules apply even to CS GO Crash gambling. Here is the things:
a) House Edge
It's a commission of the Casino. It's quite correct to say, the House Edge is a profit of the casino.
It variuos from 1% to 15%. Real casinos with real money betting have 15% house edge. Online casinos have 1% - 3% house edge, usually. Don't believe to casino says their House Edge is 0%. It can't be true, because casino needs this profit to maintain the games, to pay players, give bonuses, organize promotions.
The main thing about House edge: The lower house edge, the bigger your profit might be in the game.

b) Auto Cash Out & Auto bet options
Legit Crash casinos should have auto cash out and auto betting features in the game. It's really convenient to play with such as features, as it's not easy to play Crash game with manual mode for a long time. Experienced players are playing with Auto bet feature only.
c) Crash bonus, faucet and free money
Look, every casino should have some free money or faucet for a player to test the games. Especially, if we speak about Crash betting. It helps for newcomers to test the game, for experienced players to play when they run out of their deposit.

About Crash bonus - it's a percentage as a bonus from your bet. It can be 0.5%, 1% or even 2%. You only need to cash out as a last player/players in the round to get it. For example, your bet is $100, 1% from it is free $1.
TrustDice is a well-known player on the market, with multiple payment methods available. At TrustDice Crash game you can use ETH, BTC, EOS, and USDT to enjoy Crash gambling.

Once you start playing, you stand to win up to 2000x of your original bet. If you are one of the last to cash out, you will also win a percentage bonus determined by the size of your bet!

The house edge is pretty good too – only 1.5%. You can even play a few small rounds for free, thanks to TrustDice's free crypto faucet!

*More about what is house edge can be read here: Casino house edge explanation. If you're not clear.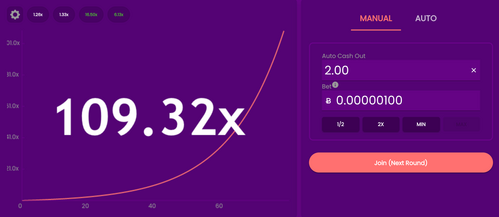 2) Bustabit
Bustabit has had skin in the game since 2014 and offers each player the chance to win up to 73.98 BTC every game. Although you can only pay and withdraw money in Bitcoin, many players have logged off of Bustabit with plenty of freshly earned digital gold in the past 6 years – and rightfully so, with a low house edge of only 1%.
3) Roobet
With a maximum win of 15k USD, Roobet's minimalistic UI featuring a little moneymaking rocket is yet another staple website of the industry. Accepting payments in Bitcoin and Ethereum, Roobet has a house edge of 2% and a mysterious VIP program that only the worthiest get access to.
4) Ethercrash
Ethercrash is a newer gambling website based off of Bustabit – but unlike its predecessor, Ethercrash allows for payments in Ethereum as well, not just Bitcoin. But generally, this site is more like Ethereum crash game. Players can enjoy Ethereum betting only. When you deposit bitcoin, it will be converted to ETH to play in the game.

The maximum winnings aren't nearly as high as the ones you stand to gain in other casinos – but the 10 ETH maximum bet and 52.48 ETH maximum win are compensated for by one of the smallest house edges around. With a house edge under 1%, you have one of the best chances on the Internet of winning often!

5) Moon3D
Moon3D is another space-travel themed Crash game like Roobet – except while playing Moon3D, you can also listen to a little built-in radio for more immersion.
What really sets Moon3D apart from the others is the fact that there is no multiplier limit – you stand to win far more than 100k x your original bet! Well, it's what the casino says, but you better double check this information.

The top 3 pilots who stay in the game longest will also get a random bonus – so perseverance really pays off! In keeping with the futuristic, space-age theme, the house edge is also dynamic. The average is 1.5%, but it wavers between -3% and 3%, depending on whether the players or the house is winning at any given moment.
6) NanoGames
NanoGames are a crisp site focused a lot on the social aspect of things; Friend clubs, a dedicated Discord server, and a friendly tone are the essence of this site. In addition to Ethereum and Bitcoin, gamers can also play with Nano, Banano, the in-house CUB token, and Dogecoin.

In order to maintain the cordial atmosphere, the owners of NanoGames have also kept the house edge quite low – only 1%! You stand to win up to 55, 518 Nano every single game!
7) CrashBTC
CrashBTC is a minimalistic, social bitcoin gambling website with absolutely no limit on how much you can win. However, there is one small caveat – if the house is losing more than 3% of their value, everyone will receive an instant cash out. However, this is a very rare occurrence that you should never be faced with.

The house edge varies between 0 and 1%, depending on how much everyone is winning. Aside from this small house edge, 1% of each bet is also taken for the bonus pot, which is received by the bravest players – the last ones to cash out. Getting this bonus guarantees that you have beaten the house that round. Do you have what it takes?

8) BC.Game
With a small 1% house edge and plenty of bonuses the moment you sign up, BC.Game are dedicated to proving how fair they are – so much so that if you find a bug that causes the game to be unfair, you will be rewarded with 100 ETH on the spot, no questions asked. If you want to take a break from playing, head on over to the BC Game forum, where you can find discussions on anything from arts to other games to memes. Once you've recharged your batteries, head back and have some more fun!
9) OneHash
Crash game in OneHash casino called Moon. Instead of betting alone, OneHash runs on a system called mutual betting. Mutual betting is a system in which all bets are added to a common pool, after which the payoff odds are calculated by sharing the pool among all winning bets.

The few things are not good: a) house edge is unknow and has not been written in the game b) no auto cashout in the manual betting.

However, mutual betting is one of the most interesting and fun ways to bet for your favorite teams, or just on well-known games like Crash. With mutual betting, the betting stays between humans, unfettered by corporations.
10) Stake
Last but not least, Stake Crash allows you to play on a sleek, polished platform with over 130 cryptocurrencies! Originally, this game was called Chartbet, but due to popular demand it has received a revamped design in order to make it as competitive as possible – and with a 1% edge, your chances of winning are pretty high.

And don't forget – wherever you decide to play Crash, you can rest easy knowing you are in full control of the game!
And use Crash gambling strategies for the smooth playing. Strategy is a really good thing, it increases chances of winning. Read more about Crash gambling strategies.
Related topics:
1. Crash gambling strategy
2. Where Should I Play Crash gambling games: TrustDice vs Roobet
3. Crash Gambling: CS:GO Crash vs Bitcoin Crash