Where Should I Play Crash gambling games: TrustDice vs Roobet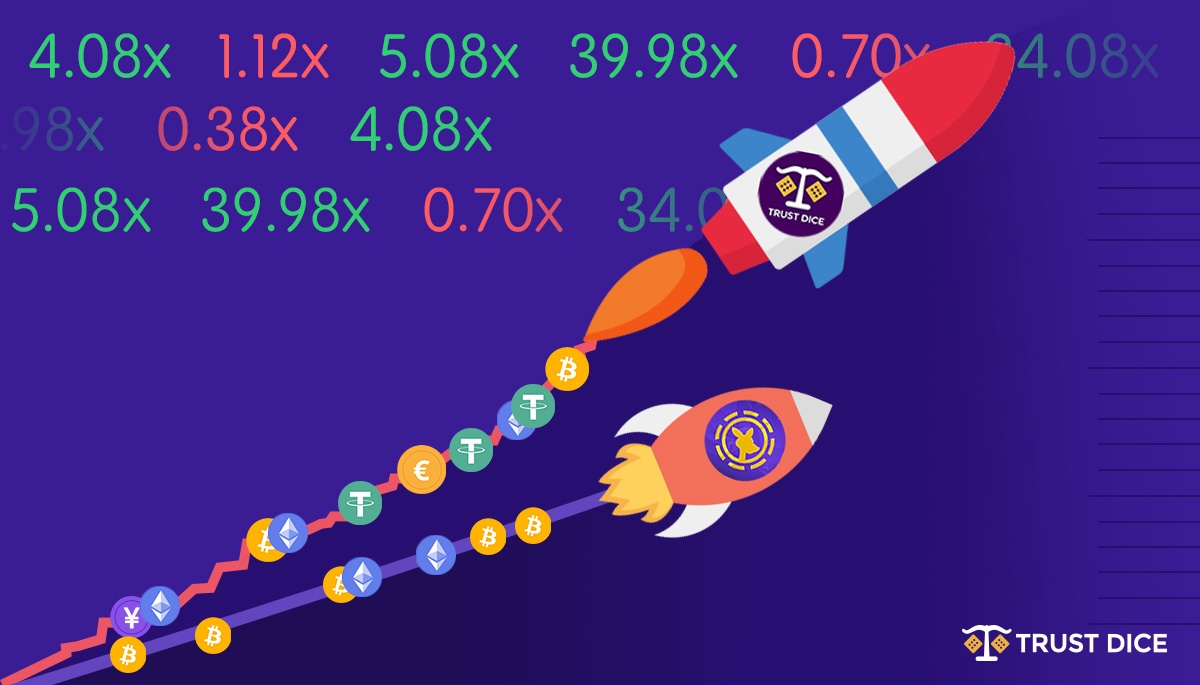 Table content:
What is Crash gambling, and how do I play it?
In essence, Crash is a gambling game based on a new concept. Instead of playing with hidden percentages, why not leave them out in the open? The game of Crash is really quite simple – it consists of a constantly increasing line going up and multiplying your bet. You can cash out any time – but the line can also crash at any time, which forfeits the payout of anybody who hasn't cashed out yet. After a few seconds, another round starts. You can either cash out yourself or have the cashout happen automatically when the meter reaches a certain number.

While the vast majority of gambling games leave a lot to chance and almost no agency to the player, Crash differs from other games by allowing the player to choose between raising the stakes or cashing out at any moment, allowing the player to gamble with less risk to themselves, while maintaining the same possibility of winning huge sums.
Where To Play Crash?
There are many places to play a few rounds of crash, whether for CS:GO items, cash, or cryptocurrencies. However, two of the most popular and time-tested sites to play Crash are TrustDice and Roobet, which we will be talking about today.
TrustDice
TrustDice is a cryptocurrency-based gambling site licensed by Curacao eGaming. TrustDice – like any other casino that deals with cryptocurrency – is based on blockchain technology, using it as proof that all games that they run are fair – the hashes can be checked at any time, by anyone. It offers Crash game also known as Bitcoin Crash game.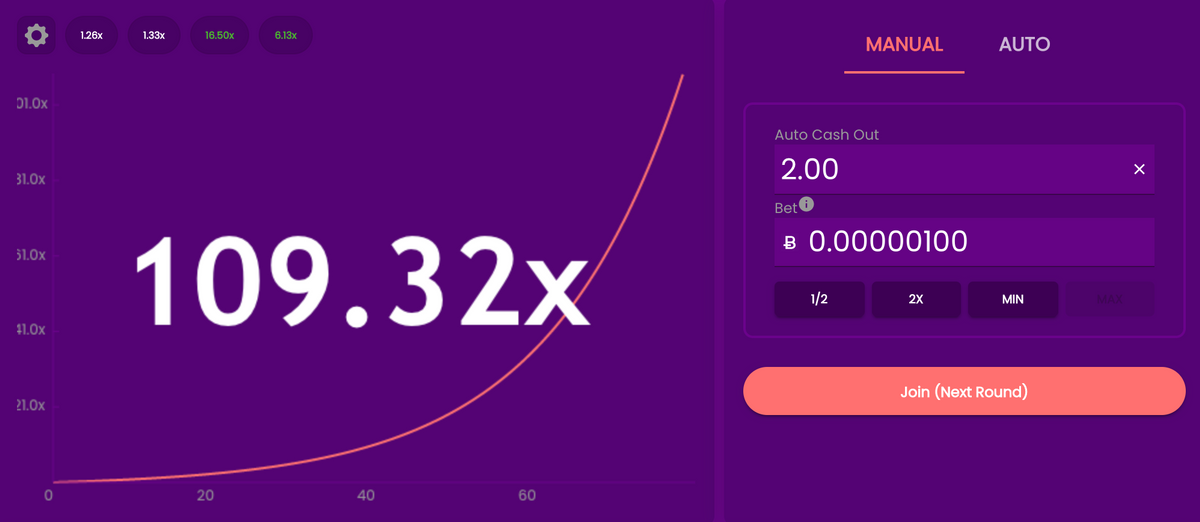 Roobet
Also gives you the opportunity to play gambling games using cryptocurrency. Licensed by Curacao eGaming as a brand of TekHou5 limited, the company is headquartered in Malta – like many other casinos.
Both Casinos are provably fair and safe fan favorites – so let's check out what each casino has to offer Crash players from around the globe.
What Currencies Can I Use To Play?
Roobet: allows gamers to bet with the Ethereum and Bitcoin, the two most commonly used cryptocurrencies.

TrustDice: allows to play not only with ETH, BTC, but with USD Tether and EOS as well. Although these cryptocurrencies are less commonly used, it's always nice to have more options for those who keep their assets in multiple currencies and are always on the lookout for investment options.
What Deposit Methods Are There?
Roobet: To deposit funds using these currencies, Roobet will ask you to exchange funds or to use your own personal crypto wallet.

TrustDice: Although TrustDice allows for these options too, TrustDice has partnered up with the exchange platforms and payment services known as Sticpay, Moonpay, and Paxful in order to provide gamers with more convenient ways of carrying out transactions.
How High Can The Game Go On Before A Crash?
Here, we can see the first difference in the approach each Crash site takes.

Roobet: the maximum profit you stand to gain from playing Crash at Roobet is $15 thousand and the line can go up to 1,006x (max. win rate).

TrustDice: offers you a maximum win rate of 2000x your original bet. Max profit is 1 Bitcoin; 2,000 USDT; 2,000 EOS and 20 ETH. It all depends on what coin do you bet.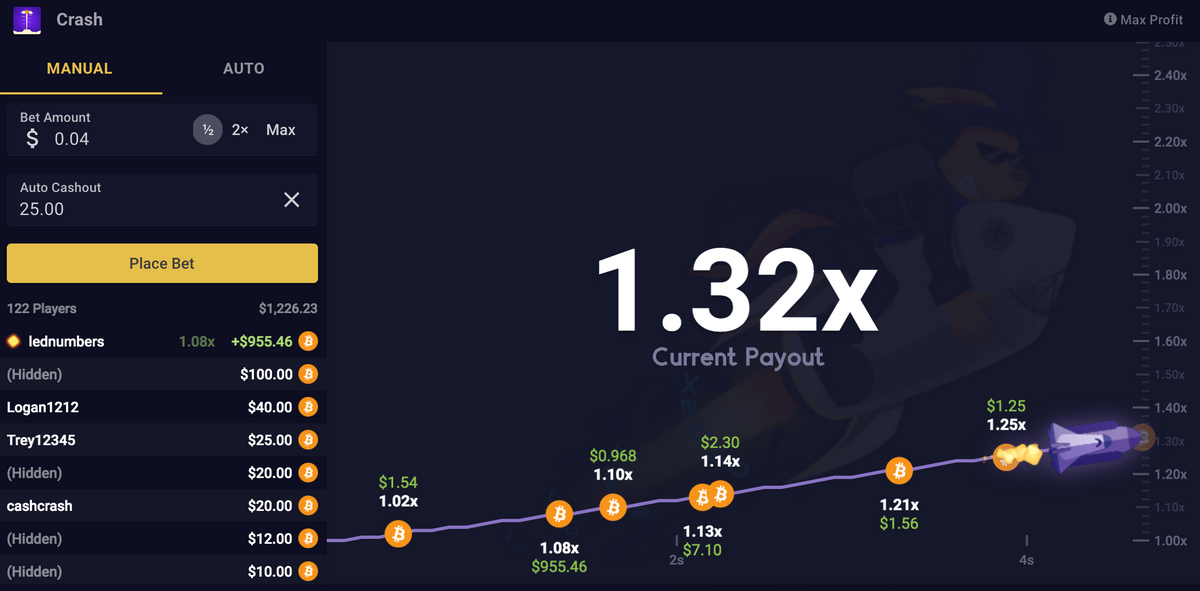 What Benefits Do I Get For Signing Up To Either Platform?
Customer retention is an essential part of running a business, and gambling sites are well aware of this – which is why each website offers a different benefit to players.

Roobet:
In order to pique your interest, Roobet offers a couple of free codes to new players, allowing you to play a few rounds on the house for free. If you only want to see how Crash works for a little bit, Roobet will suit your needs.

TrustDice:
Offers a free Bitcoin faucet/Crypto faucet to all users. The Bitcoin faucet will give you a small amount of money in Bitcoin every day, allowing you to play the first round or two of the day on the house. If you're planning to stay for the long haul, consider TrustDice – in Crash, even 1 dollar can multiply itself over a thousand times any day.
So what's the biggest difference between these 2 crash games?
Probably, that TrustDice hosts wagering contests for each coin in Crash game everyday. Bitcoin, ETH, EOS and USDT wagering contests. Top 10 players wager the most in its contests receive their prize daily.

Roobet is a unique Crash game with great graphics and it's really easy to track your profit, as it shows your crypto balance in $ during gameplay.
Fine! Anything else special I need to know?
TrustDice and Roobet, each casino has its Twitter account, where they make crypto giveaways, send free money and share Free codes (free spins): TrustDice Twitter, Roobet Twitter.
Any VIP program? If I wager a lot in Crash, do I become a VIP player?
Any good casino will have a VIP program and these two casinos are no exception.

TrustDice casino:
This casino offers VIP program for players who enjoy their games and gamble in Crash game. Benefits of VIP program: countless rewards, up to 20% cashback offers, free spins with no wagering requirements, a VIP manager, hourly bitcoin faucet and free TXT coins.

Roobet casino:
Roobet has VIP program called RooWards. When user wagers a certain amount of money, he starts receive Daily Rakeback, Weekly Cashback and Monthly bonus. More you wager and spend money, more it gives free money.

It's absolutely up to you where to play Crash game, it can be Roobet and it can be TrustDice crash. Because Crash gambling is super high popular game nowadays. All Crash game lovers, including CS:GO gambling players, will be really interested to test these Crash games.
If you'd like to give it a try, take your pick from the multitude of safe, well-known casinos and choose your own destiny!
Related topics:
1. Crash gambling strategy
2. Crash Gambling: CS:GO Crash vs Bitcoin Crash
3. The Best 10 Places To Play Crash Gambling