TrustDice vs Roobet Crash Strategy 2021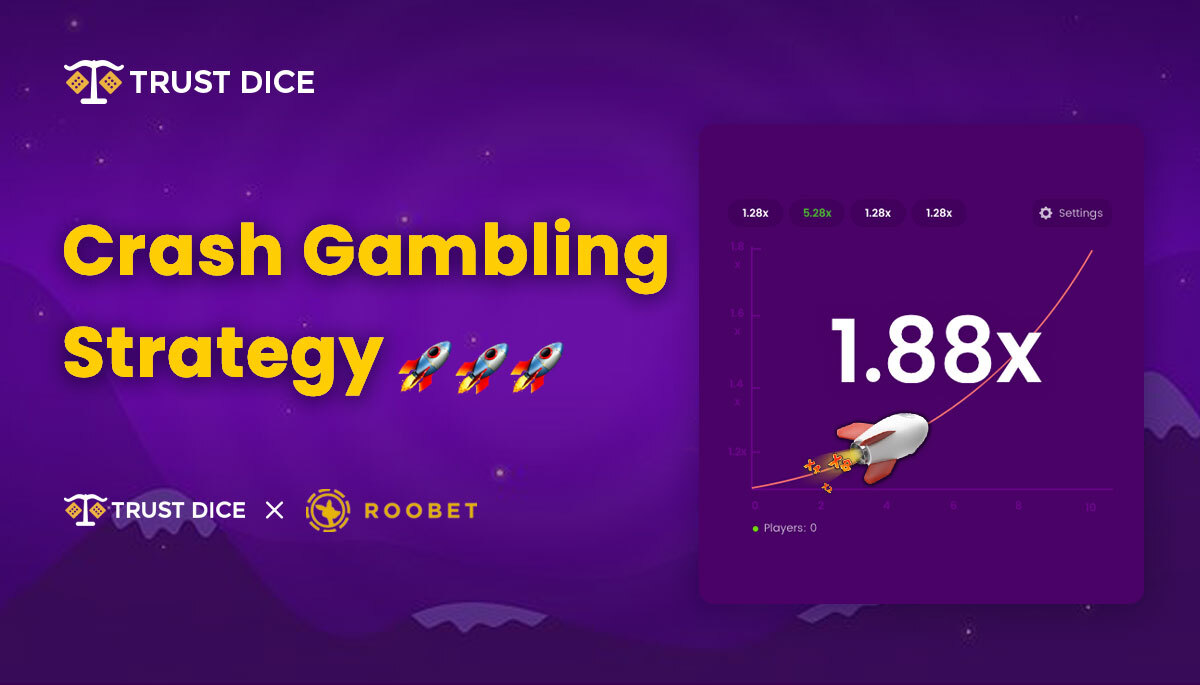 TrustDice and Roobet Crash gambling games have been on the rise for a while now, given their customer-friendly and transparent approach to online betting. Although it's already considerably easier to win in a game where you can see the house's progress and don't have to bother calling the bets of those irritating bluffers who go all-in in a last-ditch attempt to stay in the game, there are still things you can do to stay leagues ahead of the competition.
It's hard to say which strategy is going to work better before you really test it. Here are some of the best tips to improve your odds while playing TrustDice & Roobet Crash:


Tip #1) You Lost? Work Your Way Back Up Slowly
Unlike poker, you can do very well in Roobet Crash by simply playing with small bets, such as 1.5 dollars. If you've come up short following a bigger bet, simply double that number and play a few rounds in which you only bet small amounts until you hit double your loss. Afterward, continue playing with whatever bets feel right, knowing you've covered your loss.
This strategy tends to work because very few Roobet Crashes happen at lower values. The higher the line goes, the bigger the chance – but if you have the patience, you may end up with more money from a lot of small bets than you would have from one massive jackpot.


Tip #2) Bet Your Winnings
If you're looking to play with little to no risk, play until you get a tidy win – and then play the following rounds with only the profits of that round. That way, you can be sure that except in rare cases, you'll never be in the red.


Tip #3) Read The Room
No matter what platform you're playing on, the RTP will never be 100%. But that doesn't mean you can't step away after a gaming session with huge wins.
In any Crash game, the house can only pay out so much – so if lots of bets have been won in quick succession by multiple players, watch out – and maybe sit a round or two out. When lots of wins happen one after the other, it's safe to assume a very low Crash (such as 1.01) will be coming soon. Let the others take the fall for you, and you may be able to come back a few minutes later with your winnings intact.


Tip #4) Pick A Strategy And Stick To It
Aside from every player's personal strategies, there are well-known gambling strategies such as the Fibonacci strategy, the Martingale strategy, and others. Pick one and stick to it – switching them up mid-game may fudge the numbers and leave you confused. Make sure you stay on top of the numbers at any given time.


Tip#5) Control your emotions
It sounds very obvious, but this is a problem of people who gamble. They can't control their emotions. If you do, you will gradually increase your balance. In moments, when you have bad emotions - it's better to stop the game for a while and have a rest.


Tip#6) Shoot for the stars every now and then
The appeal of Roobet Crash is that you are the one who decides when you can cash out, based on the graph that you see skyrocketing in real-time.
Once you've hedged your bets and made some profit to play around with, try going for higher crashes – although the truly high ones will be few and far between, you can often walk away with 5 to 6 times as much money off of a bet simply by staying in the game for longer than the others.
Summing up, when playing Crash games whether, in TrustDice or Roobet, you should pay attention to several things:
1) Strategy.


Apply tips for better gambling.

2) House Edge.

Roobet's House Edge: 1%
TrustDice's House Edge: 1.5%

3) Wagering Competition:
Roobet: doesn't have.
TrustDice: has Bitcoin and Ethereum wagering contests in Crash.
Basically, these strategies can be used not only in TrustDice and Roobet crash games but also for other Crash gambling games which you can check from 10 places to play Crash Gambling Sites.
Obviously, there are plenty of ways to play the game and hopefully come out on top – but these tips may help you walk away from the table closer to that Lamborghini you've been dreaming of more often than not.