Where to play Bitcoin dice: Bustadice vs TrustDice vs PrimeDice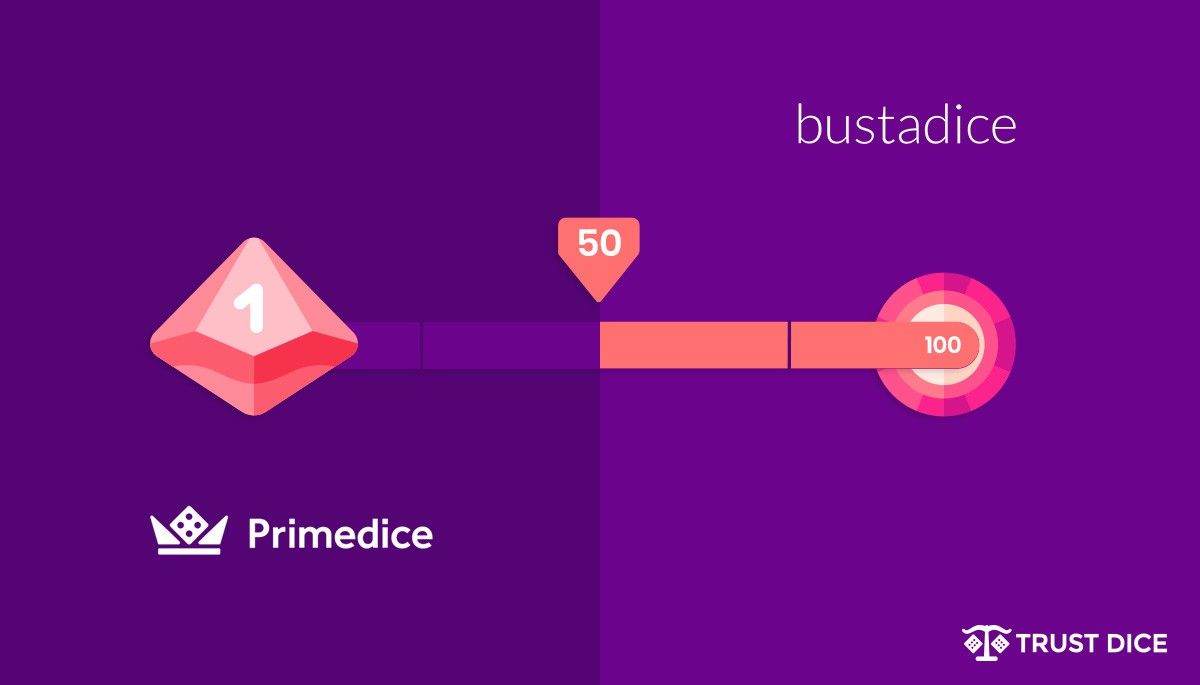 Generally, online dice games came from a real game called Dice - small objects with numbers. You guess the number and throw it to play. Before the Internet, people where gambling money like this outside on the streets.

With the Internet today, you don't need to gamble dice outside. You can do it for free on the site Roll a Dice without spending money. But who likes to gamble without expecting to win some money, right?

Here it comes, the Bitcoin Dice game. Such as Dice games allow players to use Bitcoin (the most desired cryptocurrency) to gamble. People often ask - what is Bitcoin dice? The thing is, it's the same as any online dice games, but with the option to bet bitcoin, instead of betting USD or EUR. It's just the main difference: the bitcoin dice has similar odds for any betting, no matter what your roll is.
Anyway, where we can play dice with bitcoin?
Probably, there are 3 best Bitcoin dice games in cryptocurrency gambling:

1. TrustDice.win

2. PrimeDice

3. Bustadice

Actually, there are more dice games, but those are probably the best. More about other dice sites can be checked here: Popular dice games.
How to choose a dice game with bitcoin?
You need to make a decision, based on several factors:
* House edge
* Fairness
* Does it offer faucets?
* Special features
* What crypto use to bet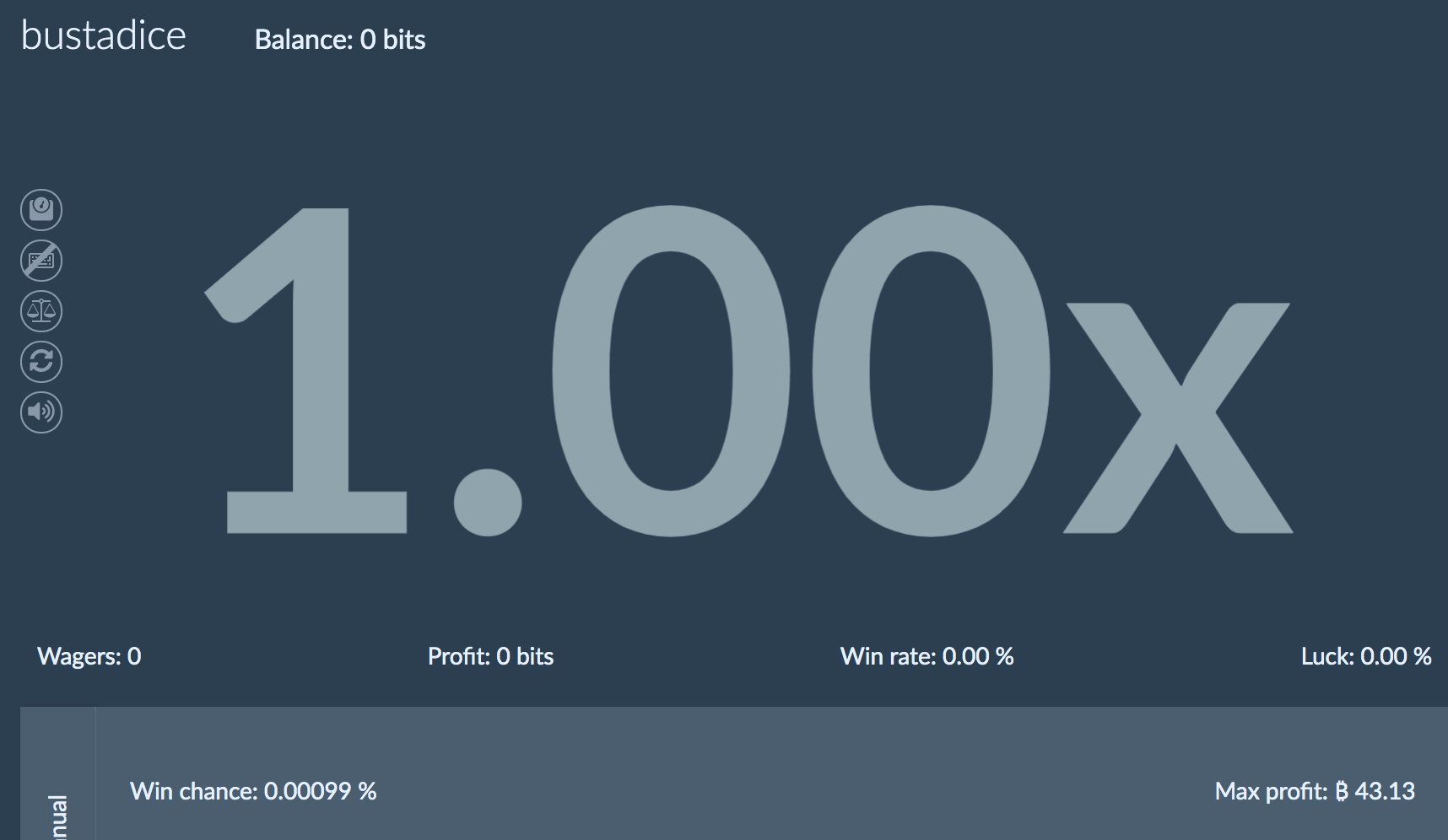 House Edge – Less for the House, More for You!
The house edge is the mathematical term used to calculate the amount of money that will return to the player – over time – to the gambling establishment you are playing at. For Dice Games, the house edge is generally from 1 - 3%.

TrustDice – holding to its principle of hosting provably fair games, TrustDice has a house edge of only 1% - and the hashes proving this can be checked at any time!

PrimeDice – pretty old betting site with a house edge of 1%.

Bustadice – it follows the gambling standards and offers 1% of the house edge. It can be checked on their website at any time by looking up the provided blockchain hashes.
Faucet – Do I Get A Few Free Rounds?
Most casinos that take payment in Bitcoin and other cryptocurrencies offer a cryptocurrency faucet. A cryptocurrency faucet will give you a small amount of crypto every few hours. The amount is enough to make a few small bets in the game and who knows, maybe these free bets will change your day. Casinos are essentially giving to players the chance to rake in thousands – if Lady Luck is on your side.

TrustDice:
With a total of 11 different faucets, TrustDice offers you plenty of freebies every 6 hours – and every hour if you're an old player! + 200 free satoshi for registering an account.

PrimeDice:
PrimeDice has been around since 2013 and has been offering free satoshi to eager gamers. PrimeDice has a Bitcoin faucet that gives you a satoshi every day – but this amount will increase if you stick around with them.

Bustadice:
This game doesn't have a free faucet, it had in the past, but unfortunately, was abused by players.

Although faucets do not give players a lot of money, it adds up over time! If you have an account on all three of the top sites that host cryptocurrency gambling with dice, you can make a good amount of cryptocurrency absolutely for free!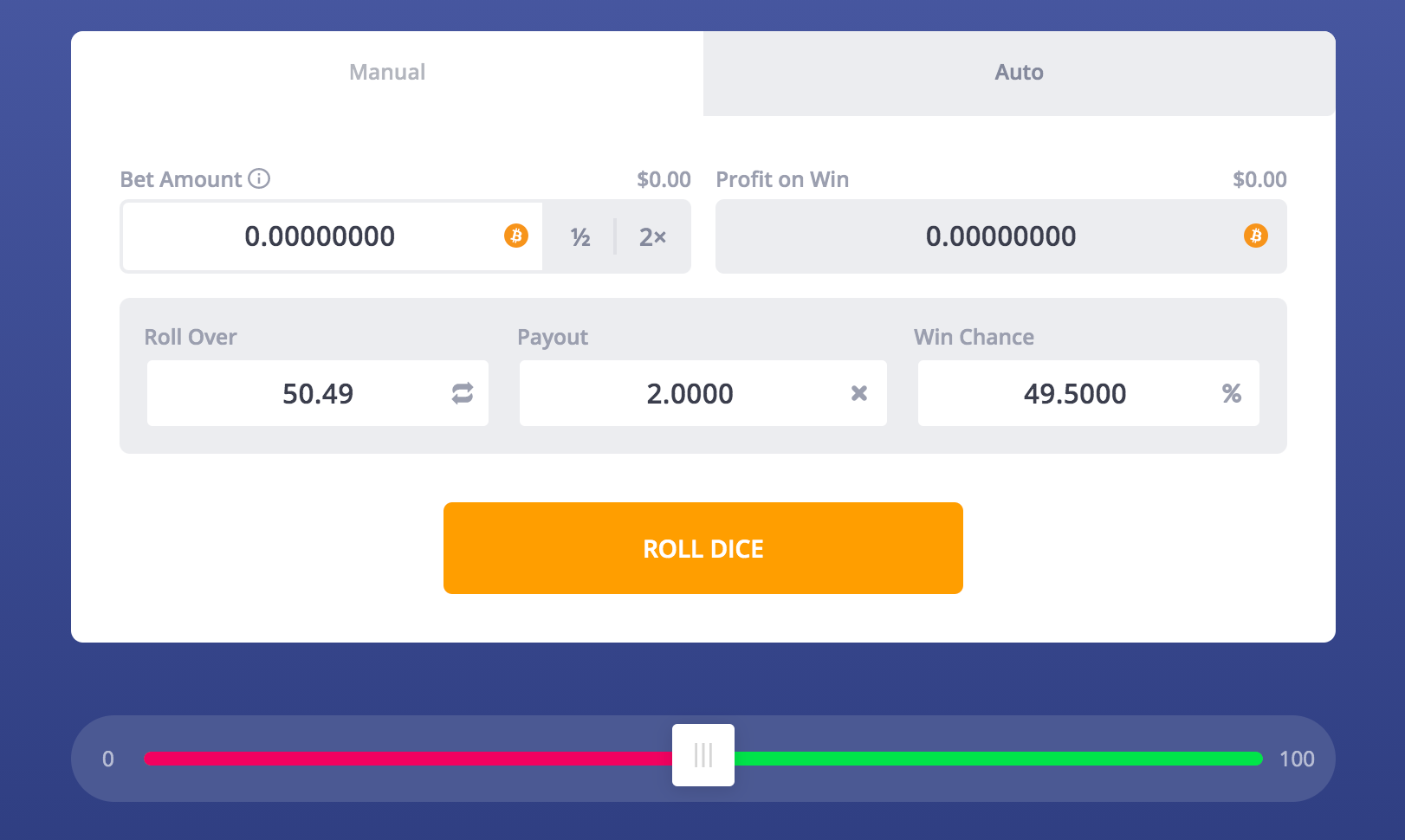 What Cryptocurrency Can Be Used To Play Dice?
TrustDice:
As a cryptocurrency-based casino, TrustDice accepts the usual currencies - Bitcoin, Ethereum, USDT, and EOS. If you'd like to play games at TrustDice but don't want to drain your crypto wallet, you can always pay using Sticpay, Moonpay, and Paxful.

PrimeDice:
Bitcoin is the most used payment method on PrimeDice – due to its massive adoption by crypto enthusiasts – but you can also pay with Bitcoin Cash, Litecoin, Ripple, and even Doge.

Bustadice:
This dice casino accepts only Bitcoin (not Bitcoin Cash). Very easy to deposit. However, you will need to buy Bitcoin (or get it from free bitcoin faucet) somewhere, before making a deposit, obviously.
Dice Wagering Contest:
TrustDice:
This dice gambling site has a weekly wagering contest. It means 10 players who wager the most during a week, share a huge prize.
PrimeDice:
Wagering contest there called Races and last for 24 hours. So Primedice has Daily contest. Top 100 players who wager the most - split $1,000. It looks interesting and hard to be in the TOP 10 players and a probably low prize for being under that top players.

Bustadice:
Unfortunately, Bustadice has no wagering competition.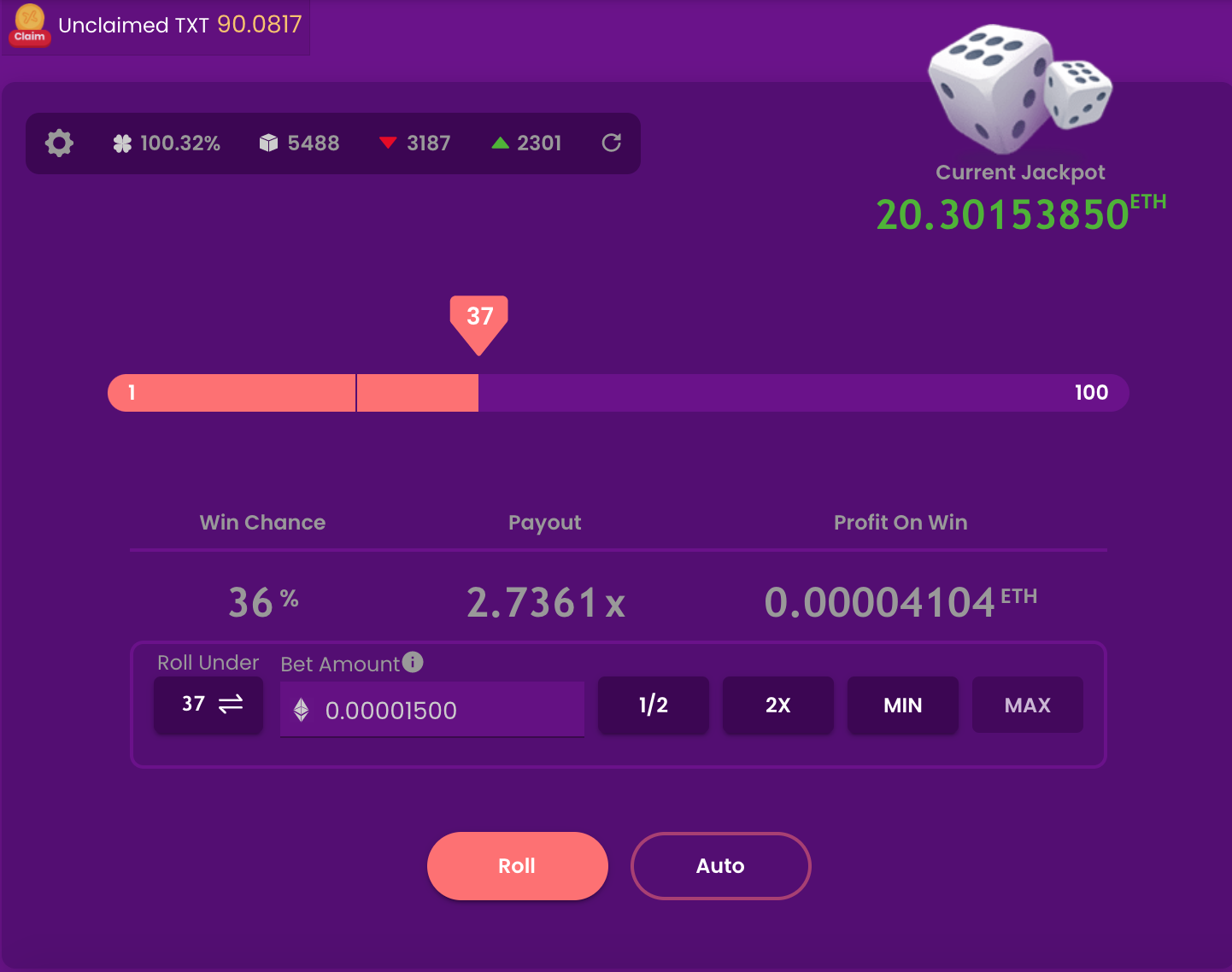 Special Features and Bonuses
Honestly, there are a few differences between the top three websites where you can play dice using cryptocurrencies. But what makes each of them special? Bonuses? Features? What really sets them apart? Let's check this out.

TrustDice:
1) When playing on TrustDice, you have the option to Mine real Coin. It called Play To Mine system. When you bet in Dice, you mine a token called TXT coin. It's token based on EOS blockchain. You can sell it on Exchange. So while playing, you can not only win more bitcoin but get extra profit in TXT.

2) Provides 4 types of Jackpot: ETH Jackpot, Bitcoin Jackpot, EOS Jackpot, and USDT Jackpot.

PrimeDice:
The casino offers – aside from the VIP program and other customer retention benefits – a Rakeback program for loyal members. But the main selling point of PrimeDice is its massive jackpot. If you're lucky enough to hit it, you stand to gain 112 BTC – at the time this article was written, you stand to gain a windfall of EUR 1,027,628! However, it's still not easy to hit that Bitcoin Jackpot.

Bustadice:
They provide a huge maximum profit margin per bet – as Bustadice claims, the players can have a chance to win 43 BTC as a max. win in the game. Another good selling point for Bustadice is the possibility to use playing scripts. If you want to gamble on multiple sites at a time, or simply have other things to do, you can choose a script and let the dice roll automatically – check back later and see how you fared!
Popular Bitcoin Dice games
Obviously, there are more online dice games. You can google it or check our table of the best Bitcoin Dice games with additional information about fairness, house edge, and bonuses.
Information summarizing + extra sites to play bitcoin dice:
Dice games:

House Edge

Provably Fair

Free bitcoin faucet

Special features

Wagering Contest

What crypto can be used to bet

TrustDice.win

1%

✅

✅

1) Playing Dice gives free TXT coins
2) Crypto Jackpots

Weekly: top 10 players share $3,000

BTC, ETH, EOS, USDT, ERC20
JP (yen), Euro (EUR)

Primedice

1%

✅

❌

Big bitcoin jackpot

Daily: top 100 players share $1,000

BTC, XRP, ETH, LTC, DOGE, TRX, BCH

Bustadice

1%

✅

❌

Max. profit is high

None

BTC

DuckDice

1%

✅

✅

Flash auto bet option, jackpot

Daily: top 15 players share $1,000

BTC, XRP, ETH, LTC, DOGE, XLM, BCH, ETC, Dash

Crypto.games

0.8%

✅

❌

Crypto Jackpots

None

BTC, XMR, ETH, LTC, DOGE, XLM, BCH, ETC, Dash

Satoshidice

1.9%

✅

❌

Dice multiplier

None

BCH

Megadice

0.9%

Unknow

❌

Interesting design

None

BTC

Luckydice

Unknow

✅

❌

Several types of dice games

None

BTC, LTC, ETH, XRP
Related topics:
1. Top 5 Bitcoin Dice Strategy Guide: How to Win at Crypto Dice